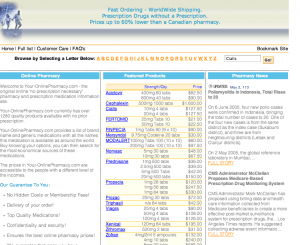 Your-onlinepharmacy.com is an online "no prescription necessary" pharmacy that offers a wide range of medications and their information to the customers. The company has over 1280 products to cater to the varied needs of the customers and offers both brand and generic medications to people all over the world. The company claims to deliver all the orders on time and there are no hidden costs or membership fee. The company ensures the best prices for medications and maintains security and confidentiality of data or personal information sent by the customers.
While going through the net for more information about your-onlinepharmacy.com, we came across some negative reviews where the customers complained that there was no email confirmation for online order and the email address was unreachable. They considered the website as scam and involved in fraudulent business practices. Ordering drugs from such pharmacies can be risky. The website does not have any phone number for you to call and this makes it difficult for the buyers to contact their executives and ask about the credentials and company policies. This makes the website appear to be a scam website as there is no proper contact address and phone number provided by the company. The website also offers medications without any prescription and this is not legal.
According to ScamVoid, the company is not blacklisted but has a bad trustworthiness or poor vendor reliability score in the WOT and it is recommended to avoid browsing the website. The site has a very low trust rating about 1% and may not be safe for any kinds of transactions. LegitScript has also considered this website to be a rogue internet pharmacy and does not adhere to the specified standards of medicine and pharmacy practice that includes standards of safety.
In a nutshell, we can conclude that your-onlinepharmacy.com is not a safe platform to carry any financial transactions and to buy online medications. Purchasing from this website can cost you your health and it can be a total waste of both money and time.
Your-onlinepharmacy.com Review -2 out of 5 stars by Stephen K. Walker
» Reviews » Your-onlinepharmacy.com review: Not recommended for online purchase...