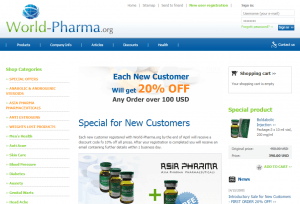 When we currently try to visit World-pharma.org, it is redirected and goes to IIS windows server. We were able to gather information, though, from captures of its website in an internet archive. It is not a new thing that an online store closes, as, through the years, I've noticed that online pharmacies just come and go.
World-pharma.org started in 2008 and was an online provider of medical products. They claimed to be a licensed and regulated pharmacy that complied with the standards of international regulating authorities such as MIPA and CIPA. They sold both brand and generic prescription products which were WHO-GMP approved, and had a host of categories such as anabolic and androgenic steroids (particularly popular among their customers), anti-estrogens, weight loss products, men's health, skin care, blood pressure, diabetes, anxiety, genital warts, headache, herpes, pain relief, quit smoking, anti-depressants and muscle relaxers. They even sold syringes and needles. Most of the products on World-pharma.org were for bodybuilding enthusiasts, so products such as hormones, supplements, steroids, and similar products were the ones found in the shop. As far as I know, the sale of anabolic steroids or any kind of steroid is prohibited on the web, more so selling them without prescriptions. World-pharma.org sold its products without asking the buyers for any Rx, which actually made sense since no doctor in their right mind would prescribe steroids for merely aesthetic purposes. Currently, the sale of steroids besides the licensed online pharmacies is illegal, and buyers may also be prosecuted along with the sellers of these products.
Besides the hormones and steroids, World-pharma.org also had products for erectile dysfunction. The shop had brand-name Cialis and sold the product at $90.00 for 10 tablets, it also had Kamagra (generic Viagra from Ajanta Pharma in India) at $70.00 for 4 tablets, and brand-name Viagra at $80.00 for 4 tablets. These were relatively high prices for those products, but it's quite understandable considering that the shop's focus was actually the sale of bodybuilding merchandise and not erectile dysfunction products.
For convenience in payment, major credit cards such as MasterCard, Visa and Amex were accepted by World-pharma.org as well as Western Union and Money Gram transactions. They delivered their products to different countries worldwide in discrete packages. Shipping usually took 7-9 days and even 3-4 days for deliveries within the EU.
For customer support, there was a Contact Us page and queries were usually answered within 24 hours. Concerns under different kinds may be raised: new ticket, view ticket, lost ID, help. They also had a 24/7 live chat. Since this store's now offline, the buyers may not be able to reach the store using the contact page on the archived records for the online store.
World-pharma.org Reviews
There were no customer testimonials in the World-pharma.org website. We also didn't find any remarks from previous customers in other review sites, but we saw a rating for it in Repdigger.com. World-pharma.org was given a reputation score of 10% which was bad.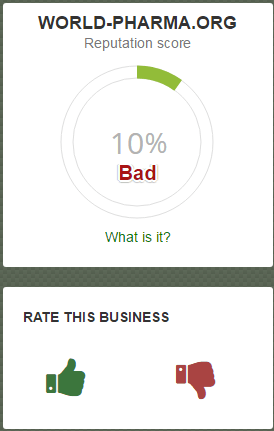 The lack of reliable customer feedbacks makes the website doubtful and may also point to an unpopular, distrusted vendor. Even if the store operated for some years on the web, it did not have external reviews or commentaries for its service, which indicates the buyers' distrust for the online pharmacy. Shops without reviews are often branded as scam websites, so buyers tend to stay away from them.
World-pharma.org Reviews 2016
Considering World-pharma.org did not have buyer commendations for its service, I tried using several platforms to determine more details for its domain. Even if the shop's now closed, some external platforms are still able to give an overview of any shop's domain information. In the case of World-pharma.org, I utilized the help of Scamner and Scam Adviser, as these platforms are able to help largely with domain analysis for websites.
I also checked World-pharma.org using Scamner and found out that the website was working for more than 3 years, but it does not own an SSL certificate and the details of the owner/company were being hidden. Scamner gave it a rating of 17% and did not recommend browsing and buying in it.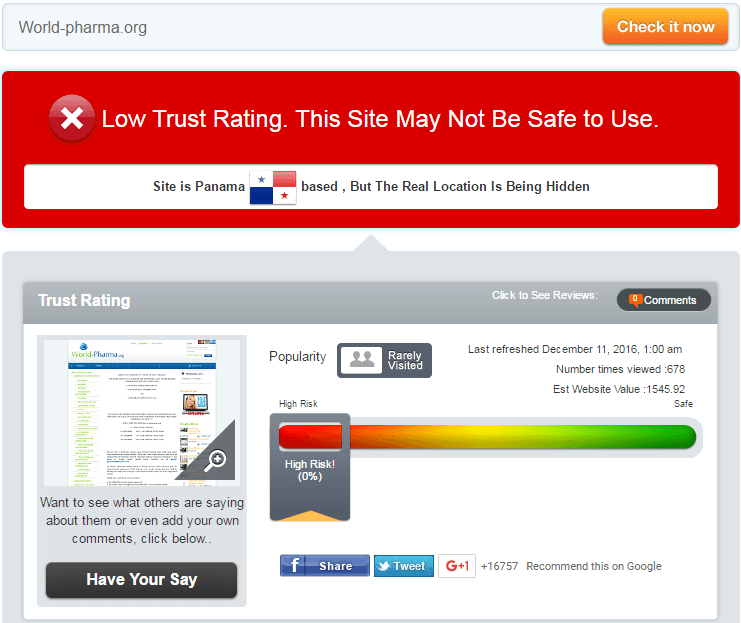 Using another scam analyzing site – Scam Adviser – we found out that the domain age was over 8 years, the website location was Panama, but the real location of the owner company was being hidden. In addition, World-pharma.org had a malware report and was listed as rogue. Scam Adviser concluded that it was not safe to use and gave it a 0% score.
World-pharma.org Coupon Codes
Each new customer of World-pharma.org was able to avail of a 20% discount applicable on the first order with a total value of $100.00. Another coupon code was World10 which gave a 10% discount for orders totaling more than $300.00.
However, the store offered an expired coupon code—the code was valid only through May 2009. The shop may have just failed to update its store for years and left the coupon even though it's now invalid. Besides the expired code, however, there were no other useful discounts on the store.
Conclusion
World-pharma.org sold brand and generic WHO-GMP approved products of different categories, but particularly sellable were their anabolic and androgenic steroids. They offered discounts for new customers and for bulk orders and allegedly had readily responsive customer support. The website had features that make it suspicious, though, such as the hidden owner location and other details. Scam analyzing sites also concluded that it is an unsafe or high risk. Currently, also, World-pharma.org is not available and would be redirected. I give it a score of 1 out of 5 and suggest looking for more functional and trustworthy stores.
» Reviews » World-pharma.org Review – Suspicious Site and Currently...