The Wegmans grocery chain has been a staple for shoppers in and around New York for almost a century. Starting out with one fruit and vegetable stand, they have developed into a full service chain of stores across six states and online. Their pharmacy program has been in operation since 1972 and became available worldwide in 1996 with the launching of their website. The Wegmans prescription prices are comparable to many of the large named national pharmacies. They offer both discount card programs for generic and brand name drugs, as well as coupons and promotions for additional discounts that are sent via email. Prescriptions purchased through their website are delivered conveniently to your door. You will have the option of Express Delivery for $18.95 which takes 1-2 business days or Standard Delivery. Their Standard Delivery option will take 5-10 business days, but is completely free for United States residents. Another draw for many customers is Wegmans' commitment to animal free testing. They are also very focused on community service and community values. The Wegmans Customer Service department can be accessed through an online contact form, by mail, or by phone.
Wegmans Pharmacy Reviews
Wegmans does not offer a customer review section on their own site. There are however a few places online with reviews from Wegmans' customers. A vast majority of these reviews are specifically geared towards the grocery aspects of the store and the customer service standards, most of which are not positive in nature. One satisfied customer raved about the Wegmans Pharmacy department in her review. She stated that Wegmans "truly exemplified service at its finest".
Another customer was not pleased at all with the pharmacy, saying that their slogan needed to be changed to "Every day you get our best… just not today". While a third customer review stated that their prescription has repeatedly not been filled correctly by the "robots" who handle the medications.
On the Wegmans' site they have a blog called "Fresh Stories" where their goal is to give customers news and updates. Their "Wegmans Pharmacy Online" post has some interesting comments and responses submitted by customers. The overall feel is that the online pharmacy is difficult to navigate and/or prescriptions are out of stock. One of the Wegmans spokespeople has responded to each of the comments. While it is nice to see customers receiving responses, the responses lack real merit as to a solution to the problems. In general, the canned response is to contact the customer service department by phone for further help.
It is difficult to say how all of the reviews would impact the Wegmans online pharmacy. Just because customers have had negative experiences in the physical store locations does not mean that will automatically translate to their customer services standards online. On the other hand, the culture a company creates through its day to day physical customer service can affect the business as a whole.
Wegmans Pharmacy Coupon Codes
Wegmans offers select generic drugs for an unbeatable price of $4 or $10. Their online list of approved generic drugs is available for every customer. This program is useful for anyone filling or refilling 30 or 90 day prescriptions. Currently this is the only promotion they are running.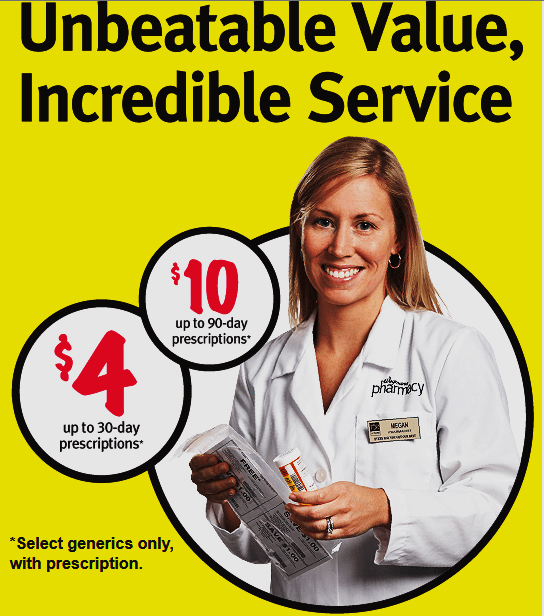 Wegmans accepts internet coupons that meet their policy. As long as your internet coupon does not contain the word "free" anywhere in the print you can use it. Also, the value of the discount cannot exceed the amount of the item you are trying to purchase.
Conclusion
Overall, Wegmans Pharmacy earns a 3 of 5 stars. The design of the site appears easy to read and use. The options for filling new prescriptions and refilling prescriptions seem clear and concise. We appreciate the ability to create an online account that will track your pharmacy purchases and requirements. The free home Standard Delivery shipping is also nice. However, the general unhappiness regarding the prescriptions filled and customer service does not instill confidence. In the reviews we found, only one was positive. While a majority of the negative reviews were centered on the grocery department, there were clear instances of people being unhappy with their pharmacy experience. While their prices are comparable to other pharmacies, the lack of customer service does not endear more than a 3 star review.
Phone, Email
Wegmans.com/pharmacy Review -3 out of 5 stars by Stephen K. Walker
» Reviews » Wegmans Pharmacy Review – Easy to Navigate