If customers seeking medications and health products for their pets search for the website Vetshoponline.com, they are automatically redirected to the site vetshopmax.com. It is unclear whether the company simply changed their website or domain, or have at some time transferred their business to vetshopmax.com. There is no actual website for Vetshoponline.com.
Upon being redirected to the vetshopmax.com site, we discover a number of health and wellness products that are sold in a retail format for domestic pets. A characteristic that sets this site apart from its competitors is that they not only sell common dog and cat supplies, but also medications and supplies for horses, birds, small mammals, reptiles, aquatic species, and farm animals. Customers will find numerous products related to flea and tick prevention, heart health, dental health, and eye and ear health for animals. The prices of these products are in line and equitable with their online and physical retail competitors.
Shipping charges from Vetshoponline.com are a flat rate of $5.95 USD on any order, regardless of size. This shipping method is stated to offer a processing and handling time of 2 business days, followed by a shipping time of 7 to 14 business days. If a customer orders a product and is not happy with the items they receive, the company will accept returns for a full refund as long as the packaging is not opened. The refund policy does not apply to clearance items. Patrons of Vetshoponline.com who wish to contact the customer service department have a few options as to how to do so. The Contact Us page offers a direct email address, a toll free phone number, a toll free fax number, and a physical mailing address. In addition to these methods, they also offer a direct phone line to the call center that is located in Australia. The call center operates 7 days a week from 7am to 6pm PST.
Vetshoponline.com Reviews 2015
On the redirected Vetshoponline.com website, the company offers a Customer Testimonials page in which all of the statements and testimonials are positive. The general consensus from these testimonials is that the products are of a high quality, the prices are good, and the shipping is fast. It is not surprising that there are no negative reviews or testimonials on the site, as no company wishes to advertise their negative publicity.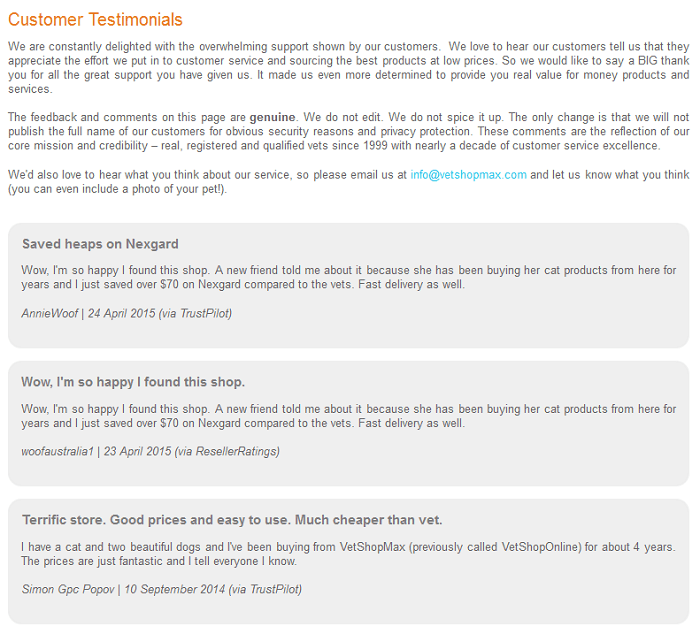 The independent website SiteJabber.com offers 10 individual reviews of Vetshoponline.com. These reviews reflect a more balanced overall review of the business. The average score on this site has 60% of customers "liking" Vetshoponline.com and services.
Vetshoponline.com Coupon Codes
There is only one coupon code available from Vetshoponline.com, which appears at the bottom of the Promotions page. For this promotion, customers who sign up to the email subscription will receive a $5 instant coupon.
Conclusion
Thanks to the prices, fair shipping, customer service accessibility, and mostly positive reviews we have located, we are giving Vetshoponline.com a rating of 4 out of 5 stars. This appears to be a very good retailer to visit if you are in the need for domestic pet and farm animal health and wellness supplies.
» Reviews » Vet Shop Online Review – Online Pet...