Universalpetmeds.ca, based in Canada, prides itself on being a premier online pet pharmacy that offers prescription and non-prescription medications for pets. The copyright at the bottom of the web page says 2002-2017, so the company has been operating for around 15 years already. It was nice seeing an online pharmacy solely dedicated to vending pet medications, as most of the online stores I encounter were mainly selling people meds. Universal Pet Meds is a unique store carrying various pet meds when most online shops today are bent on the sale of erectile dysfunction meds and similar Rx medications.
Prospective customers need to create an account and log in to order medications. There is a pdf file of the order form which should be printed, filled out with the appropriate information and then faxed back.
At present, their best-selling products are Advantage, Heartgard, Revolution, and Interceptor. There are various versions of these meds, depending on the size and weight of the pet with the need for the medications. Before any pet owner can order from Universalpetmeds.ca, they should be able to provide a valid prescription from their pet's vet. This is to ensure that the meds ordered on the shop were properly prescribed for the animals and not purchased at the owners' whim.
Universal Pet Meds charges a fixed price of $10.00 for shipping, plus applicable taxes. It delivers via registered mail and then through the destination country's postal service. This takes 7-10 business days on average but may be up to 21 days. UniversalPetMeds did not state if it caters to international clients or just to buyers located in Canada and in the United States. However, since there were no restrictions posted on the shop, I think the store is able to ship orders to almost any part of the world.
For orders that are not received within the guaranteed delivery period, customers may have the package reshipped for free or may opt to get a refund of the full payment.
They have a Contact Us page wherein customers may put in and email their queries or concerns. They also have the following phone numbers: Toll-Free Phone: 1-866-944-7387, Toll-Free Fax: 1-866-758-7387, Local Phone: 925-524-6741.
The website also specifies their mailing address: 4936 Yonge St. Suite 835, Toronto, ON, M2N 6S3 CA. Their office operates from Monday to Friday at 7:00 am to 6:00 pm CST and on Saturday at 9:00 am to 5:00 pm CST.
Universalpetmeds.ca Reviews
To date, I have not been able to find feedback or reviews from customers of Universalpetmeds.ca. This is a bit strange given the 15-year experience of the company. It may be because it is not yet very popular. This makes it difficult to form a judgment on the reputation of the website. Using scam analyzers may be helpful.
Reviews form a huge part of any online store's reputation, so the lack of reviews for Universal Pet Meds can be damaging to the clients' perception of the shop. Oftentimes, the no-review status of online stores is associated with unreliability and at times, with scams too, as scam stores usually do not have reviews available. Buyers may be put-off by the lack of reviews for Universal Pet Meds e-shop. I like how the shop ran for almost 2 decades, but it concerns me that the shop did not have concrete reviews from third-party platforms.
Universalpetmeds.ca Reviews 2017
Since the shop Universalpetmeds.ca is still in operation, I tried searching for online reviews available for the shop. But, my search for third-party platform feedbacks for Universal Pet Meds was still to no avail—there were still no comments for Universalpetmeds.ca from the present year. Because of this, I tried using other analysis websites instead, like Scamadviser.com and Scamner.com.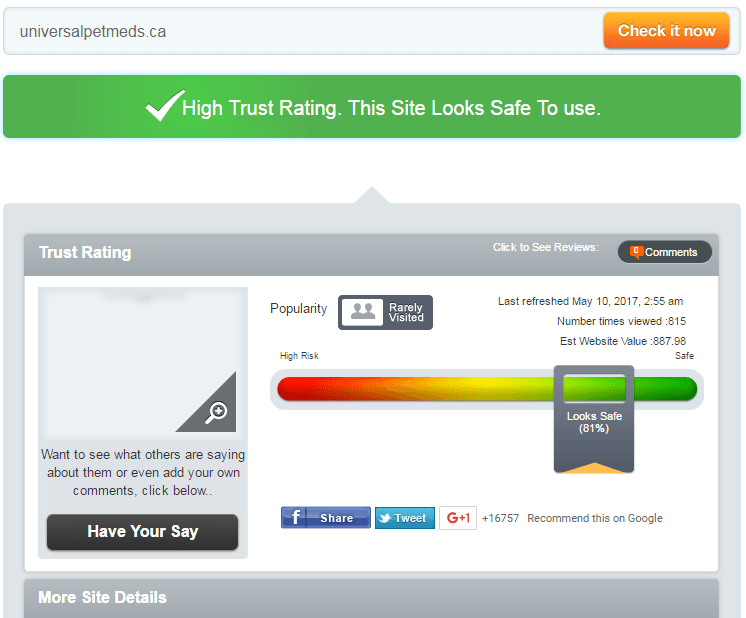 As said by Scam Adviser, Universal Pet Meds "looks safe to use" and was given a high trust rating of 81%. The domain age was revealed to be more than 10 years. The website is owned by Manitoba Ltd. and is located in the Bahamas. I like how Universal Pet Meds was rated excellently by Scam Adviser—this analysis platform seldom rates websites as "safe" and more than 50%. The good rating for Universalpetmeds.ca must mean something good for the buyers.
Universalpetmeds.ca Coupon Codes
No coupon codes were found for Universalpetmeds.ca. We also couldn't find any promotional or discount offers on the website.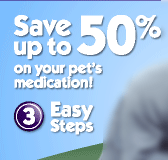 Nevertheless, they claim that buying from them would allow the customer to save up to 50% on medications, because of the low prices.
Conclusion
Universalpetmeds.ca has been serving since 2002, offering prescription and non-prescription medications for pets sold at low prices. Customers can save up to 50% on products sold on the website. Customer reviews are yet to be submitted for Universal Pet Meds, though. Its features such as having an SSL certificate, the professional appearance of the website, the disclosed address and contact details make it seem secure and safe to use. In addition, scam analyzing sites gave it relatively high ratings. We would recommend using this website for your pet medication needs, but with care. The score I give it is 3 out of 5.
» Reviews » Universalpetmeds.ca Review – Decent Source for Your...