Unitedpharmacies.com is an internet pharmacy based out of Hong Kong/Singapore, which sells oral, topical, and injectable medications. Their website has been around for about sixteen and a half years (their site states they have been operating for five years). Their website has a simple and easy to use layout with photographs and brief descriptions of all medications they offer. They do not require a prescription or medical evaluation to order from them, and it should be noted that it is illegal to purchase prescription medication in the United States without a prescription and we would advise against doing so.
Their website offers a wide variety of medications, and their prices vary depending on what you order, we saw prices as low as two dollars per bottle as well as other medications that are hundreds of dollars. They do appear to offer slight discounts for buying in bulk, and their prices seem to be in line with other websites of this type.
This company only accepts two forms of payment, international wire transfer, and international cashier's check. They accepted credit and debit cards at one time but it appears that is no longer the case. Unitedpharmacies.com offers standard shipping via regular airmail, delivered in 7-14 business days for $8.50 per order, and express shipping service within 3-7 business days, by way of EMS courier services for $32.00. Their site also states that any duties, taxes, or customs fees are the customers' responsibility.
Unitedpharmacies.com offers two ways to contact their customer service department, a toll free phone number to reach them during local office hours (GMT+8 time zone), and via email after filling out an online contact request form. We did not test either of these options and therefore cannot attest to whether or not they work, or how well.
Unitedpharmacies.com Reviews 2015
After thorough research, our investigators discovered numerous reviews. Their website itself offers none, but there are plenty of third party, independent, and message board reviews. Some of these reviews were good, customers stating they have used this company for years and never had a problem. Others had complaints ranging from not getting what they ordered, lengthy waits in receiving their order, to fraudulent charges on their credit cards.
It should be noted that just as some bad reviews do not mean a scam, some good ones do not rule it out. The NABP (National Association of Boards of Pharmacy) recommends against using this company as they appear to be out of compliance with state and federal laws or NABP patient safety and pharmacy practice standards.
The trusted website Scamadvisor.com had this to say about Unitedpharmacies.com.
Unitedpharmacies.com Coupons
As of January 13, 2015 you can register to join their membership program to simplify the ordering process and receive special discounts and coupons. The only coupon we could locate was this one.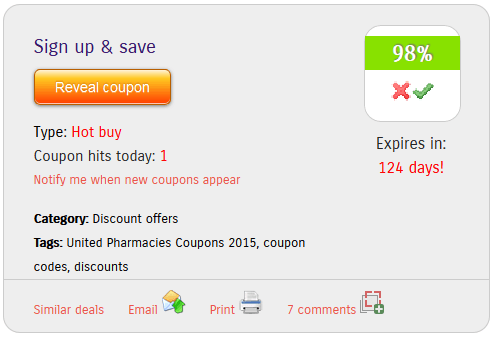 You have to sign up to this website to view and receive the coupon so it is not clear whether or not it actually works.
Conclusion
Unitedpharmacies.com sells affordable prescription medications, and offers great discounts. The website is easy to navigate, but accepts only two forms of payments: checks and wire transfers. After investigating all the reviews (positive and negative), shipping, pricing, customer service, and the information from Scamadvisor.com, Legitscript.com and other websites we would only give this site a 2 out of 5 stars.
Unitedpharmacies.com Review -2 out of 5 stars by Stephen K. Walker
» Reviews » United Pharmacies Review – Seems Fraudulent –...