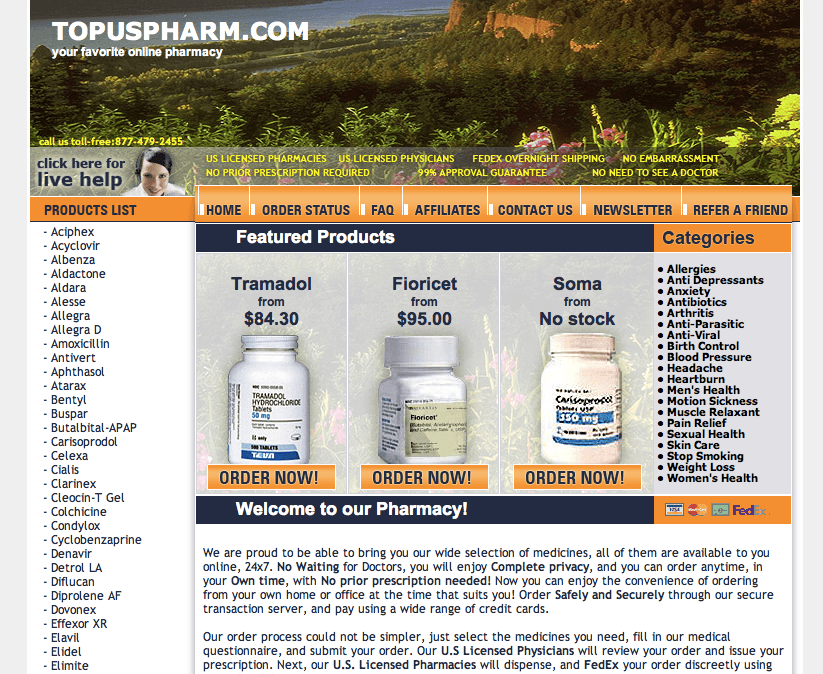 With topuspharm.com you can now enjoy buying medications online from the comfort of home without the need of any prescription. The company helps the patients to select the medicines through the categories and they can also fill in the medical questionnaire and then submit the order. This order will be reviewed by US licensed physician and then dispense the medications as per the needs. Complete privacy is maintained regarding the information that is sent by the customers and the data is transferred through safe and secure transaction servers. Payment can also be made by using a wide range of credit cards. All the products are dispensed by using FedEx delivery.
The company does not have much information on the net and there are no reviews and this hints that the company is not very popular among customers and has not dealt many buyers. If you are willing to buy online medications from any e-platform then it is essential that proper verification is done before placing an order. Scamadviser has rated the company with high risk and it has a trust score of 0%. This indicates that it is not at all safe to carry out any online transactions or disclose credit card details to the company. These details can be used for identity theft or some other fraud practices. Again Scamvoid has stated that the company is not blacklisted but it has bad trustworthiness and bad vendor reliability score in the WOT. The website also has a poor social network presence and is not very popular among online medicine buyers. Legitscript has also stated that the company is a rogue internet pharmacy and may dispense medicines from companies that are not approved or legit.
Thus, it is suggested that online buyers should avoid this company as they will not find much information about various processes and customer services. Searching the net for some reliable and trustworthy company is definitely a good choice.
Topuspharm.com Review -3 out of 5 stars by Stephen K. Walker
» Reviews » Topuspharm.com review: Think twice before you purchase