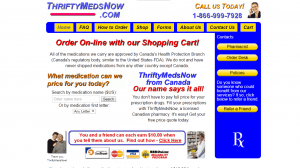 The company name seems to be Thrifty Meds Now operating at thriftymeds.com. This business is a licensed Canadian pharmacy offering medications that are approved by Canada's Health Protection Branch and they only ship medications from Canada. Ordering claims to be easy – it seems you may order online, or order by phone. To place and order, the customer must present a signed release form, prescription order form, patient history, and the doctor's original written prescription. Some medications do require a prescription and some do not. It is noted on each medication's page of details whether they do or do not require a prescription.
The way the company works, is that they obtain your prescription and on your behalf, receive a Canadian prescription, fill it by a Canadian pharmacist, and then pay and receive the medication for the customer and send it out to be delivered. The website says that providing and delivering prescriptions to the United States takes 12 days, while delivering internationally may take up to 8 weeks after all valid forms and prescriptions are received. It is noted on their FAQ that they do not and will not handle prescriptions for drugs known as habit-forming narcotics and controlled substances.
Thrifty Meds Now accepts Visa, MasterCard, certified check, or money order, and do not accept personal checks. Shipping is $10.00 for orders under $100.00. The company provides many ways to contact them, including multiple phone numbers, an email address, and a physical address.
Thriftymeds.com Reviews 2015
There are no reviews or testimonials on the thriftymeds.com website, and no available reviews or testimonials on other websites.
LegitScript.com lists thrifymeds.com as an unapproved internet pharmacy.
Scamadvisor.com says thriftymeds.com might not be totally bad, but that it does have some negative reviews and does not provide these reviews.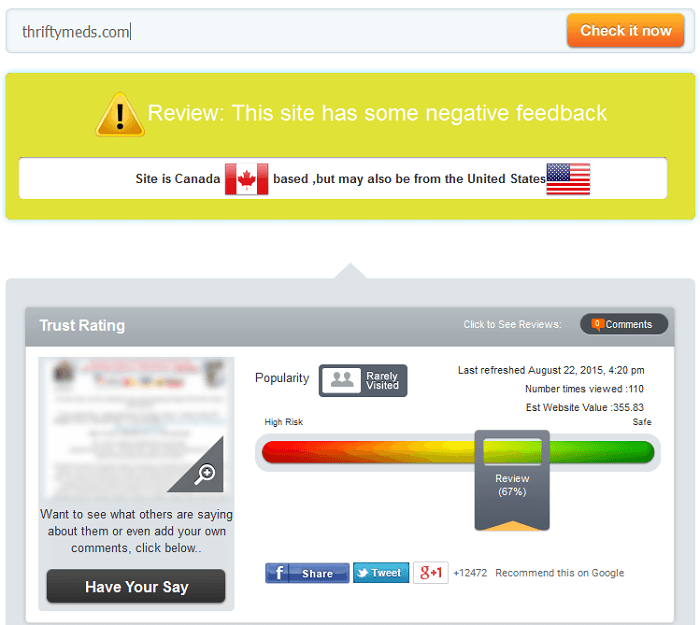 Thriftymeds.com Coupons
Orders over $100 receive free shipping, and if you refer a friend, both you and they will receive $10.
Conclusion
Scam adviser reports that the domain has been around for 13 years. It is highly unbelievable that a company that has been around for that long has no readable reviews or testimonials, but it is also unbelievable that if the company is a total scam for it to be around that long. It does seem to be legitimate as the business requires all of the forms to be filled out and valid in order to fill the prescription. The shipping and processing times may be unreasonable to some customers, but that is just the nature of mailing items internationally.
Taking into consideration that the company does not accept personal checks, does not fill prescriptions for controlled substances, and requires so much paper work, thriftymeds.com receives a neutral 3 out of 5 stars. In theory this website seems to be a great resource if the medication is not time sensitive, as you can order up to 6 months' worth if your prescription allows it. The lack of testimonials and reviews is quite concerning, considering how old the company seems to be.
» Reviews » Thrifty Meds Review – Appears Legitimate but...