Sildenafil for ED is a drug that treats erectile dysfunction (Ed) which is basically defined as impotence; lack of ability to erect or keep the penis erected in men. This happens when there's no sufficient blood flowing to the penis. Therefore, Sildenafil manages ED by increasing blood flow to the penis during sex. It's this increased blood flow that results in an erection.
In the US alone, ED is said to affect 30 million men, in some patients who totally can't get an erection while in others Erectile dysfunction is an occurrence that comes once in a while. A study done on male aging in Massachusetts revealed that 52% of 1,290 studied affirmed that they had some degree of erectile dysfunction. Sildenafil falls in a class of drugs called phosphodiesterase inhibitors PDE5.
It's important to note that Sildenafil doesn't treat ED nor increase libido which is a sexual desire. Far from the notion, it doesn't also prevent or increase the spread of Sexually Transmitted Diseases (STDs) like Gonorrhea or human immunodeficiency virus (HIV).
You have ED if
Your erection is too soft for penetration during sex
Your erection doesn't last long enough
You are unable to erect at all
If you have these symptoms whenever sex is initiated then you have some degree of ED
Causes of ED
ED can be caused by many issues affecting the body anatomy or physiologic function. Among these are some physical causes like Injury (Spinal cord injury) or surgery for bladder or prostate cancer at times damages blood vessels and nerves that supply the penis. At other times the nerve damage is irreversible to which the patient must get treated to restore the ability to erect.
Another cause is side effects from drugs used to manage High blood pressure, Heart disease and depression. Also, High Cholesterol, Obesity, Prostate cancer treatment can contribute to Ed. Psychological causes contribute about 10-20% of ED. These are among poor self-esteem, worry, depression and performance anxiety
With lifestyle modification, some causes can be resolved by quitting smoking, being more active, managing weight and reducing on alcohol. The other sure way is Sildenafil.
Sildenafil Dosage and Use
Sildenafil comes in three doses of 25mg, 50mg, and 100mg. There should be no rush since it only works with sexual stimulation, thus it should be taken between 30 minutes and 4 hours before sexual activity. It has got a half-life of 3-5hrs and keeps going for up to 4 hours. In most men, however, 1 hour before sexual activity is the best time to take for it takes 1 hour to reach peak plasma concentration (30-120 minutes). With food, the effect is delayed by up to 1 hour. Sildenafil has a half-life of 3-5 hours and is effective for up to 4 hours.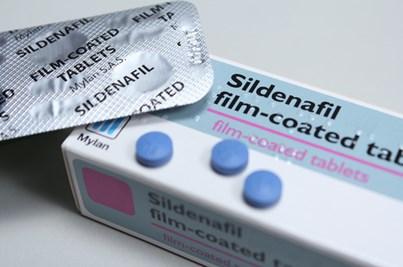 You can take Sildenafil with or without a meal; it works best on an empty stomach. However, if you must eat it's important to note that a meal rich in fats makes the drug take longer to start working than it will take on a simple fat-free diet.
Though the lack of erection is a diagnosis warranting use, Sildenafil is not for everyone. Let your doctor in on this decision as it will also help determine the dosage that's right for you. Nevertheless, for most users, an initial dose of 50mg which will be increased to 100mg or reduced to 25mg on the basis of tolerability and effectiveness. Nonetheless, Sildenafil 100mg is probably the most appropriate start dose as it has shown to produce Optimal Erection(rigid and Fully Hard) in a large percentage of men and reduces need for titration as well as prevents user getting discouraged with lack of effect which would then lead to abandoning usage if 25mg or 50mg proves fruitless.
If you are taking Sildenafil on prescription from your doctor for erectile dysfunction, then he will probably commence on an average dose and add or reduce your dose depending on how your sexual activity improves in response to the dose prescribed. Thus it's advisable to keep your doctor informed of your progress to from time to time and if you are having any side effects. Let him know as well if you experience nausea or dizziness during sexual activity before receiving the prescription.
It's important to note that, Sildenafil 100mg shouldn't be taken more than once in every 24 hours.
Sildenafil Side Effects
If you take Sildenafil, you should expect these symptoms:
• Dizziness
• Visual color disturbances
• Headache
• Dyspepsia
• Nasal congestion
• Flushing
• Visual disorders.
Restrictions
Your doctor may restrict use of Sildenafil if you have certain health conditions like known allergies, heart disease (as sexual activity strains heart function) or if you are taking certain specific medications e.g. Nitrates (medications for chest pain) such as isosorbide mononitrate (Monoket), isosorbide dinitrate (Isordil) and Nitroglycerin (Nitrostat, Nitro-Dur, Minitran, riociguat (Adempas, Nitromist) among others because of drug interaction.
Drugs like alpha-blockers like Flomax (tamsulosin HCl), Hytrin (terazosin HCl) and others prescribed for prostate issues and high blood pressure. In some patients using Sildenafil together with alpha-blockers may lead to a drop in blood pressure or fainting.
HIV protease inhibitors, such as ritonavir (Norvir), atazanavir sulfate (Reyataz), indinavir sulfate (Crixivan) among others is another class of drugs restricted with Sildenafil use.
Other restrictions are oral antifungal drugs like itraconazole (Sporanox) and ketoconazole (Nizoral). Some antibiotics like Macrolides; Erythromycin, Telithromycin (Ketek) or Clarithromycin (Biaxin).
Other restrictions are : If you have penile deformation in shape, uncontrolled blood pressure, Pulmonary hypertension, stroke, Angina, narrowing of the aortic valve, heart failure, Heart surgery within 6 months, Severe vision loss, liver problems, stomach ulcers, Kidney problems or dialysis, Leukemia, anemia, eye disease, bleeding problems like hemophilia and erection which has lasted for over 4 hours.
Sildenafil Buyer Beware
From the internet, many sites sell a lot of "supplements" that claim to manage Ed. However many of these are fake and scam and do not contain the prescriptions on the label. It's important to know if the sites are authentic and if the drugs being sold are FDA approved. Your life means more than the money when it comes to the purchase of Ed drugs.
» Article » Sildenafil for ED: A2Z of the Most...