Seypharma.com is an internet pharmacy that provide medications for men's health, weight loss, pain control, hair loss, and women's health. Buying from this website is simple. All the customer needs to do is browse the catalog, find the medication they're looking for, create an account or log in if they've ordered before, add it to their cart, and checkout. Payment methods accepted are e-check and bank transfer. All orders are shipped either International 1st class airmail or Registered airmail free. From date of shipment, domestic orders should arrive between 5 and 14 days, international orders will take up to 21 days to arrive from date of shipping. All packages are shipped in discreet packaging to ensure the customer's privacy.
This online pharmacy claims to only source from reputable suppliers and the quality is the highest standard. Due to where the medications are manufactured, their packaging will look different from what the customer might be used to, but they are always in their own original packaging and have the manufacturing date, expiration date, and batch number.
Orders take about 72 hours to process and then are shipped. If the customer is unsatisfied for whatever reason with the service of Seypharma, they encourage the customer to call customer service as soon as possible to resolve the issue. This pharmacy does not require a prescription from a doctor or order from their website. They do carry some over the counter medications, but also prescription medications. Even though Seypharma.com does not require a prescription prior to ordering, the customer is encouraged to seek the advice of a medical professional before placing an order.
Seypharma.com Reviews 2015
There are no customer reviews of testimonial listed on this website. Scam Adviser gives this online pharmacy a low trust rating and Legit Script lists them as a rogue internet pharmacy.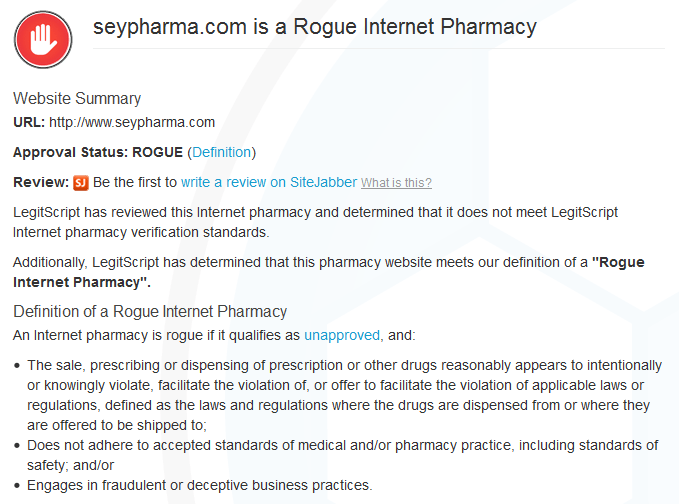 Seypharma.com Coupons and Discounts
No coupons were found but customers can save starting at 20% on clearance items.
Conclusion
As with most online pharmacies, Seypharma seems to be exactly what consumers' need in all aspects- availability, price, and customer support. There are a few red flags that say this online pharmacy might not be the best option. They do not require a doctor's prescription to purchase the prescribed medications which is illegal and may contribute to the status of rogue from Legit Script. Also, they do not accept credit or debit cards for orders, thus severely limiting payment options for customers.
There are also no customer reviews or testimonials to contribute to the legitimacy of this online pharmacy. There is no way for potential customers to know that this pharmacy is not a total scam because they do not have the testimonials. The red flags may be overlooked sometimes when a company is lacking in one aspect, but there is nothing to make up for these warning signs.
Knowing that the medications are being sent from India and are not exactly what is sold in the United States, it would be not advisable to purchase medications needed to sustain or improve life from this website or business. This company receives 2 out of 5 stars.
» Reviews » Seypharma Review – Not Recommended – Red...