Privatepharmacy.net used to be an online store for buying generic products which is currently shut down. The company used to work under a different name i.e. pharmaplax. The store claimed to provide customers high-quality generic medications that were manufactured in India. Private Pharmacy also said that it was interested to make long time customers, therefore, it paid special heed towards bringing maximum satisfaction to the customers. The company also claimed that it did not ask for prescriptions before selling drugs because it maintained the confidentiality of the customers. Moreover, the drugs it sold were manufactured in a country where a prescription was not required for them i.e. India. All the drugs were said to be approved by the FDA. 100 mg of Viagra was priced at 2.71 US Dollars at this store depicting that it was an expensive pharmacy.
The company used to ship to almost all the parts of the world but it had mentioned to contact the customer center to confirm it further. Shipping charges were not definite and varied from one area to another. The drugs were sent by the company in a discrete packet with no mentioning of what was inside the package. Trackable Courier Service used to deliver the products to the customers within 5 to 7 days. This service provided an option to track the courier and took as long as 14 days to deliver the parcel. On the other hand, Airmail Service took 14 to 21 and 30 days at maximum for delivering products to the required customers with no tracking option. The customers had been provided three options for making payment i.e. Visa, MasterCard and E-checks. For contacting the company, a toll-free number +1(888)5247141 was provided in addition to another number for the residents of Europe and the United Kingdom i.e. +44(808)1891420. An option of live chat also used to be provided here but it could not be checked since the store had been closed.
Privatepharmacy.net Reviews
Private Pharmacy had some customer reviews received while it still used to operate normally on the internet. These reviews were positive and presented PrivatePharmacy.net as a good store.
One of these reviews was made by a client named Greg who said that this store had provided him with "awesome" prices for Cialis that could not be beaten by any other pharmacy. He also said that he got his medications without prescription just as the pharmacy had promised. His order had arrived in "4 days". He thanked the pharmacy for providing good products and great service. Another client named Charles called it as an "awesome online pharmacy" which he decided to try and did not "regret" at all. The pills arrived a little late but were "cheap" and "genuine" and Charles was happy about it. He said that he would order from this store again.
The reviews seem quite good but it must not be forgotten that they were present on the vendor's official website only. This means that there was a chance of them being compromised or being forged by the vendor himself. Such pharmacies are generally not to be trusted and must never be tried.
Privatepharmacy.net Reviews 2016
After finding nothing regarding the customer reviews 2016, I checked what Scamadviser had to say about this suspended website.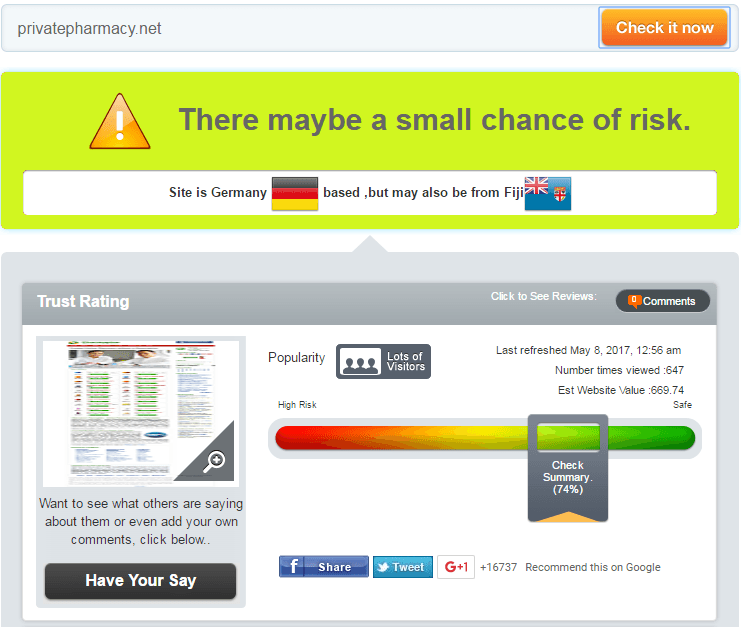 Scamadviser had given it a 74 percent rating, yet it had mentioned that this store had been associated with a small risk. This was probably because Scamadviser had found out about it dual location i.e. Germany and Fiji.
Scamner had said that this website had been hiding its original location and had no trust records although it had been working for three years. Scamner had also found that Private Pharmacy e-store had its roots embedded in Netherlands. In the end, it had been given a 0 percent rating.
Privatepharmacy.net Coupon Codes
After researching thoroughly about PrivatePharmacy.net, I came to know that it did not offer any proper discounts.
It had only been mentioned at the website that the drugs were offered at this store at prices that were already less than their branded counterparts. It was further clarified that these prices were 75 percent lower than those of branded drugs. There was nothing else that this pharmacy used to offer its customers.
Conclusion
To conclude, I must say that I found Private Pharmacy flawed in a variety of ways. The drugs were not at all cheap and the reviews though extremely positive, were only confined to the official website. The discounts were not at all attractive. Scamadviser and Scamner had asked the customers to be careful while dealing with it because it was associated with high risk. Due to these reasons and many more, I am forced to give PrivatePharmacy.net a rating of 1 out of 5 and I would never buy from this store if it was functioning.
» Reviews » Privatepharmacy.net Review – An Expensive Store Currently...