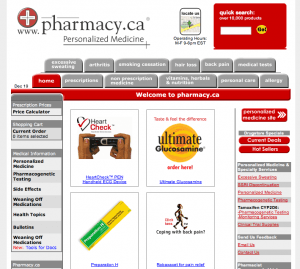 Pharmacy.ca is a leading Canadian based online licensed pharmacy that sells prescription and generic drugs at discounted prices. The Canadian based pharmacy is in retail business for more than 35 years that now sells their drugs over the internet. Customers can access their online store or more personalized online option that is customized according to the customer's needs. Customers can look for drugs under different categories like hair loss, medical tests, personal care, allergy, herbal medicines and range of other medical conditions. The website also offers some useful online tools like price calculator, online blog and an option to use customized version of the website.
The website claims to offer drugs that are tested and verified by the regulatory authorities in North America in addition to selling quality drugs at lower prices. For example, Hydrosal Gel 15% 30ml is available for just $19.99 instead of the original retail price of $20.79. Customers can also find similar discounts on many other listed medicines.
The current head office of the pharmacy is situated in Toronto, Ontario. Customers can reach their support to learn more about the online pharmacy through their phone contact, fax or email. They offer to ship their products to all over the world under different shipping options.
Pharmacy.ca Reviews
Customer feedback and reviews about the website are not commonly available but the limited available feedback is mostly in favor of the website. This indicates that the website is a legitimate online pharmacy but not very popular among the customers. According to one customer from UK, the deliveries are always in time and he never faced any problems with Pharmacy.ca even when he was buying medicines from the website for more than two years.
Customer claimed that the website is secure and legit to use. After placing order, the customer support call people to ensure they are buying the right medicines for their condition.
Another customer claimed that the medicines he received from the website worked effectively and he felt better after the use of drugs.
Some customers claimed that they online store also owns a mortar-and-brick pharmacy in downtown Toronto that makes them pretty much safe to do business with. Overall, the customer feedback is not easily available but the website is a genuine and authentic option for people with overwhelmingly positive opinions about it although limited.
Pharmacy.ca Reviews 2014
Pharmacy.ca receives very limited customer feedback on online forums that is also couple of years old. Recently, there is no online feedback or review from customers in 2014 about the website. This indicates that the website has very limited influence on online customers and is not a popular option.
Pharmacy.ca Coupon Codes
Customers can find the listed prices very competitive on the website. In addition to that, customers can also take advantage of following offers to save more.
• Current Deals: The website offers a link to "Current Deals" page on the website with a list of products that are available for special discounts. For example, Rogaine Solution 2% Men 60ml is currently available for $54.99 instead of $56.99 under the "Current Deals" offer.
• Coupon Codes: It is hard to find any current active coupon code for the Phramacy.ca on any coupon website.
Overall, discount and additional offers are not as many if compared to some other online pharmacies.
Conclusion
Their web design is very simple but they provide some useful online tools like a customized version of the online store, price calculator and online blog that is also very informational. With their original store situated in Toronto and doing business for last 35 years, the website is an authentic online pharmacy with positive but limited reviews. Some points of concerns are that the discount offers are not many as well as the review are also not easily available on review websites. In fact, there is no customer feedback on any forum about the website. This makes it little risky to do business with even though it looks like a legitimate online pharmacy. Overall, the website deserves 3 out of 5 stars when it comes to their ratings.
Phone, Email
Pharmacy.ca Review -3 out of 5 stars by Stephen K. Walker
» Reviews » Pharmacy Review: An Authentic Online Pharmacy with...