Petsofoz.com is an online pet care pharmacy for pets and vet needs that is owned by Petsofoz Pty Ltd Limited Partnership. The company started in 2008 and they sell a large variety of medications for dogs and cats. The site itself has limited information as to its operation and other specifics that should be released to the public.
There is barely any other information on shipping aside from the amount of time products should take, which is from 5 to 20 business days, and longer in holiday seasons. The shipping cost is a flat rate of $4.99.
Items sold are believed to be authentic as the website s that products are 100% official. They are PayPal verified and accepts credit card as another form of payment. There is no contact information ed on the site other than an email under the about section.
Petsofoz.com Reviews 2015
There are no customer reviews for the company listed on the site itself; however, a few were found on external platforms. Ripoffreport.com has a lot, and most all are negative with a few positive thrown in here and there. Just by looking at the first page, it gives off a very negative vibe for Petsofoz.com. Most of the reviews were from customers who did not receive their orders despite contacting the company on a number occasion. Other reviews were found on Hedgehogcentral.com. Scamadviser.com also mentions that the site may be risky to transact business.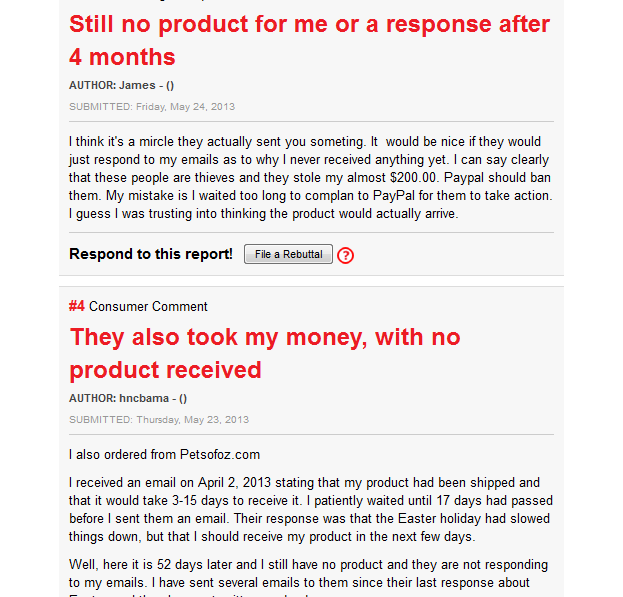 Petsofoz.com Coupons
No coupons were found on Petsofoz.com; however, a few were found on external sites such as Promopro.com and Dealscove.com.
Conclusion
Petsofoz.com has very little information available about its products, services, affiliations, or even the company itself. Paired with all the negative reviews and warning from Scamadviser.com, this site may be operating a scam. It doesn't seem safe for users and almost all bad reviews complained about not receiving orders. Who to tell if the positive ones weren't paid reviews? Will all this in mind, Petsofoz.com receives 1 star out of 5.
» Reviews » Petsofoz Review – Possible Scam Site –...