Petsmart is known to be the largest specialty pet retailer that provides services and solutions for the entire lifetime of a pet. Petsmart operates with the belief that pets make people better and provides the items necessary for pets to keep them happy. Petsmart operates around 1,433 stores around the United States, Puerto Rico, and Canada. The website provides access to products for dogs, cats, fish, birds, reptiles, and other small pets such as hamsters and chinchillas. Food, treats, habitat supplies, and other basic care products can be found on Petsmart.com.
In addition to being a retailer for many well-known pet food and supply products, Petsmart provides resources for pet owners looking for education on their pet. There are links to educational guides on food, puppy care, fish, small pets, reptiles, and birds. Customer service is available by phone or online, and returns through the website are simple.
Petsmart.com Reviews
There is not a review section or testimonials page for the website itself, but customers can review products individually, and can contact customer service if they have questions.
Of 16 reviews on Trustpilot, Petsmart has an average of 4.5 of 10 stars. Upon reading the reviews, they are mostly reviews of customers that have visited the brick and mortar locations, rather than online customers. The dissatisfied customers have placed their negative reviews on the website, rather than the actual store that they visited.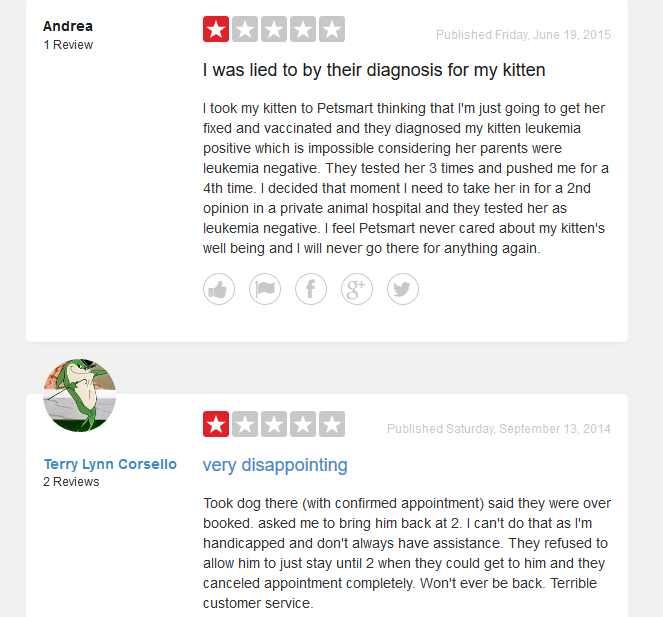 ScamAdviser rates the Petsmart website with 100% safety, but does caution that the website has received negative feedback. This is probably because of the TrustPilot ratings. Other than that, Petsmart.com can be trusted to purchase from.
Petsmart.com Coupons
RetailMeNot.com has a few coupons available, as well as a rebate code. The coupons include $10 off a $30 purchase, 50% off select National Geographic products, 25% off of select fish food products, buy 1 get 1 50% off dog toys, and a rebate of $5 off an online purchase of $75 or more.
Customers receive free shipping on orders over $49 or more, some exclusions do apply.
Conclusion
Petsmart.com is a totally reputable website to purchase pet food and supplies. Not only do they provide an extremely wide selection of items for pets of all kinds, the educational sources are highly valuable. There are links for pet services provided by the stores, and links to philanthropic opportunities.
The reviews on TrustPilot should not be taken into much consideration, as the negative feedback is mostly geared toward experiences in-store. ScamAdviser ensures customers that Petsmart is a safe website to purchase from, and it is accurate, because it is one of the largest pet stores in the United States. As one of the largest pet supply retailers, having a website that is free of bugs and is trustworthy is top priority. Customers can feel confident ordering from Petsmart.com, their money will be secure and they will be able to read about products that they are intending to purchase, and will be able to read about what other customers have to say about the product. Petsmart.com receives 3 out of 5 stars.
» Reviews » Petsmart.com Review – Quality Online Pet Store...