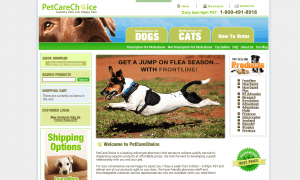 PetCareChoice is considered as a leading online pet pharmacy that provides medications for dogs and cats. Dealing in prescription and over-the-counter medications, the pharmacy ensures to supply the high quality drugs at affordable price range to worldwide customers. The store offers a wide range of medications which include Frontline Plus, k9 Advantix, ATOPICA, Deramaxx and many more. It claims to dispense medications from registered and licensed pharmacy, which will be received by customers within specific time frame. Delivering orders via USPS right at customers' doorsteps, the company gives flexibility to customers to place their orders either via mail or by telephone. The customer support service remains available for customers 24*7.
There is a wide variety of pet products that the store offers at competitive prices. You will find a team of professional experts that are willing to assist you with your order and advice regarding the pet products among so many others.
Petcarechoice.com Reviews 2015
In order to gather actual information about www.petcarechioce.com, we have checked the internet and found that though company is not blacklisted, it does not have sound reputation in the market. It is not registered in CIPA and comes under "Not Recommended list" of NABP. Even at scamadviser.com and legitscript.com, the site comes under high profile risk and is not much popular among online buyers. When we have search customers' reviews, we have mostly found negative reviews. Most of the customers have delivery issues. They have highlighted the fact that company's shipping services are very poor. Many times, customers are unable to receive their order though money gets deducted from their respective bank accounts. Corrina says that the customer service is very rude and does not listen to clients. The customer service is quite disappointing as it neither picks phone calls nor they answer their queries by mail.
Greg G says that you should avoid this site at all costs as you will end up losing your money. He placed an order and was told the script was wrong and when he tried to cancel the order it was not possible and thus he lost his money. He warns buyers from shopping on this site as the customer service does not make things better either.
Petcarechoice.com Coupon Codes
There are a number of active coupon codes that we found that directly relate to this store. These are aimed at attracting more clients to shop in this store. This has worked so well for the store and this why it appears to be quite popular. Some of the coupons that we found include:
The coupon code SPRINGPET guarantees you a discount of 10% on all orders which are valued at $75 and above.
With the code PRICEFALL, you will be given 10% discount on your next order of pet medications.
If you get 100 likes on Facebook for this store, you are awarded a discount of 10% on your next order.
There is free delivery which is offered on selected products on this store.
With the coupon code THROUGH and orders which are worth more than $100, you will be given a discount of 10%.
Conclusion
Petcarechoice.com appears to be your ideal online store for all pet supplies and medications. There is a wide variety of products and great discounts to be offered. This means that you will buy all your products at discounted rates. Sadly, there are so many negative reviews about this store. Most clients have complained of losing money on this store and the majorities are disappointed with the customer service. The customer care department is said to be very rude and unethical which is a huge disappointment. With all these challenges, we give this store a score rating of 2 stars with the hope that it will improve.
» Reviews » Petcarechoice Review – Untrustworthy Store With Many...