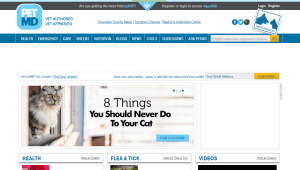 PetMD is known to be the world's largest resource for pet health and wellness information available digitally. It was founded in 2008 to supply pet owners support beyond their vet's office. The company has transformed into the go-to resource for parents of pets around the world. PetMD has a comprehensive collection of over 10,000 articles about health, and they are all written and approved by veterinarians trusted by PetMD. There is a symptom checker available for when pets are ing odd behavior.
Three steps are all that it takes, and the most relevant information and articles are available. The healthy weight calculator helps owners of both cats and dogs by determining the ideal weight for their pet. This takes into account the animal's breed, age, and weight and gives the current body condition. There is a recommended calorie count given that aids in getting the pet's health back. One very important tool is the chocolate toxicity meter. This comes in handy when the pet has been naughty and raids the candy cabinet.
The site overall provides links and articles to learn more about health, care, nutrition, breeds, and emergency care. There are endless links and articles available with information specific to recent pet news, and even videos about pet's health. There is a section dedicated to recalls that have been issued for food and treats. There is endless information provided on PetMD, it is almost overwhelming. The local pet service finder allows users to input their city or zip code to find veterinarians, pet grooming salons, and even pet friendly hotels.
Petmd.com Reviews
There is not a section on the PetMD website for customer ratings or testimonials. ScamAdviser rates PetMD with a 100% high trust rating.
Petmd.com Coupons
There are no items available for purchase through the PetMD website.
Conclusion
PetMD is an excellent website for pet owners to use as an additional resource to their regular veterinarian. There are many blog posts and links containing information about behaviors, health, care, and even bonding. Not everyone has access to a 24-hour emergency veterinarian clinic, so PetMD can provide answers in a pinch, when a beloved pet has become ill or is ing symptoms of being sick. It is not designed to take the place of a visit to the vet, but it can be a peace of mind as well as provide some useful information for any pet parent.
Even though this website has no reviews or testimonials, it is a great asset to the community of pet parents that look to the internet for answers. The resources are priceless and PetMD is a vet authored and vet approved treasure chest of information. For users that have found themselves in need of a pet friendly hotel, or those who would just like to input their pet's body information can find their answers at PetMD.
Because there are no items for sale on the website, the information is presented in an unbiased way and in a professional manner. Users can feel confident that the information they are receiving is legitimate and rightful. PetMD receives 4 out of 5 stars.
» Reviews » Pet MD Review – A Trusted Resource...