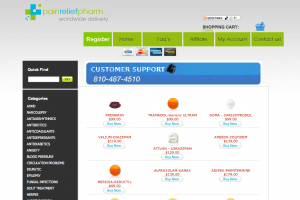 Painreliefpharm.biz is an online pharmacy store that caters to health-care requirements of people by providing customers with the access of wide categories of medications such as antibiotics, antidiabetics, anxiety, blood pressure, diuretic, epilepsy, herpes, migraine, men's health and many more. The online store claims to offer both branded and generic medications of same quality, which customers can choose according to their preference and budget. The online store is dedicated to provide convenient access to the pharmaceutical needs of the customers with minimum hassle andat reasonable price. As far as purchasing online medications through this store is concerned, most of the pharmacy reviewing websites recommend customers to not to use this site, as great amount of risk is associated while dealing with this online store.
According to the pharmacy reviewing sites along with the customer reviews available on the Internet, it is pretty clear that this online pharmacy store is not considered reliable and trustworthy among the online medication shoppers. Pharmacy reviewing sites such as Scamadviser, LegitScript and Pharmaciesreview have warned the customers to avoid browsing the site, a they can get involved in scam or fraud cases. Scamadviser has reviewed the site and determined that this site has low trust rating and it may not be safe to use the site and has been reported as being untrustworthy. LegitScript has reviewed this Internet pharmacy and determined that the site does not meet LegitScript Internet pharmacy verification standards. The website does not adhere to accepted standards of medicine and pharmacy practice or has been found in fraudulent business practices.
Customers willing to shop through this website may do at their own risk, as several reviewing websites have warned the customers to not to use this site. Even some of the customers reviews available online are not positive, as customers have reported bad shopping experience while ordering through the site. Scamvoid has reviewed that the site may be safe and customers need to be cautious and must be aware of warnings before placing any order. The website doesn't seems to be popular on the Internet, which doesn't indicate good signs for the online pharmaceutical shoppers because they will not find enough details related to he website to judge its reputation in the pharmacy field.
Painreliefpharm.biz Review -3 out of 5 stars by Stephen K. Walker
» Reviews » Painreliefpharm.biz review – Not Recommended by majority...