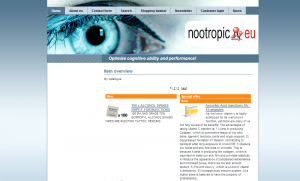 This online pharmacy specialises in selling nootropic products. These are products that enhance in various brain functions. These functions include mental memory, intelligence, attention and concentration. Their drugs improve the brain's overall performance and are manufactured from EU based pharmacies at high quality standards. Their nootropic products are sold at affordable prices. The site aims at ensuring the customer saves money while enjoying their products. The site is based in UK. Their highly qualified licensed pharmacists guide their customers on which drugs are the best for them and their side effects. They give them a system to follow when taking the drugs and in a short time, the customer will notice some changes in his brain function such as more focus and motivation. Their products are delivered between 5-15 working days within the EU countries and 10-30 days to countries abroad. They have a great customer care team that assist with any queries the customer might have.
Nootropic.eu Reviews
Though the website does not have any reviews, scamadviser.com granted it a 61% trust score. This means the website can be trusted and is reliable though a little risky for users. Users should do more research before using the site even with the more than average trust score. The website rarely gets visitors making it unpopular to users. The company should increase its popularity through social networks like facebook, twitter and Google+. One way to achieve this is through creating a webpage in a social site like facebook and having internet users like the page. This will help spread the word in the internet and get more people visiting the site. It would also have internet user making a buzz about the site leading to exchange of ideas concerning the products, services and quality. They should also create a mobile app that advertises their products and incoming sales. People will receive alert through their mobile phones and log into the site to check them out.
Scamadviser.com shows the site has originated in more than one country. Besides Germany, the other site origins are the Netherlands and Belgium. This means that potential customers of the site should review the site and determine its reliability before engaging in any purchase and money exchange. On 15th November 2013, the site was listed as an UNAPPROVED pharmacy.
Nootropic.eu Coupon codes
The site has some special offers for their customers worldwide. One of these special offers is the 5% discount charge on the Ascorbic acid injections. This vitamin C injection will help customers save some money while enjoying the benefits of this drug. Another special offer is given of 5% on cerebrolysin pack. Customers can improve their neuron functions at a reduced price. A 10% discount charge is given to mildronate injections which improves metabolism and energy supply of body tissue. These are great special offers but the company can a few more to have customers streaming in the site and encourage them to save some money. Coupon codes are important money saving system that would have customers coming back for more purchase. The company could also encourage customers to earn money from referrals they make to friends. They could refer the company and its products and have them earn money or points that would change into discounts for purchase. Employing these strategies will increase traffic.
Conclusion
The website seems reliable but needs a lot of improvement. For starters, it can benefit tremendously from social platforms like facebook and twitter. Creating a summarised webpage on these platforms will increase its chances of getting more traffic. More traffic would lead to more purchases and reviews. The reviews will help them have a clear knowledge of which products are popular and those that were not liked. Also they will know where and how to get more market. The fact that it was listed as unapproved means they have to add more effort to become a more reliable website. This website gets 1 star rating.
Phone, Email
Nootropic.eu Review -1 out of 5 stars by Stephen K. Walker
» Reviews » Nootropic.eu Review: An Unapproved Online Pharmacy