Mind Body Green is a lifestyle company that focuses on providing resources that aid in building a powerful mind, body, spirituality, emotional state, and environment. The brand believes that these are the most important pillars to wellness. The website is comprised of articles and videos from best-selling authors, trusted healers, fitness experts, top chefs, journalists, and celebrities that provide the most up to date content and tools to aid in living a healthier and happier life. The website approaches healing and happiness with a combination of holistic practices as well as Western medicine.
In addition to the articles that are free to read, there are some videos that are free to watch as well. These are all more on the introduction level of educating. Readers can also purchase Mind Body Green video courses on things such as specific diets, chakras, self-help, food, and fitness. Prices for these video courses range from around $40 to $70, with the ability to bundle a few and save some money.
The website is separated into sections for ease of navigation though the content for food, recipes, relationships, meditation, and happiness. The main page also highlights articles that are trending or are the editor's picks. All topics are related to improving your life in one way or another, regarding personal struggles, business hang ups, dietary concerns, and new exercise plans.
MindBodyGreen.com Reviews
There are no reviews or testimonials of the website itself, but each of the video courses have a section with customer testimonials. Each article also has a section for comments, though this says more about the content available for reading rather than the website as a whole.
ScamAdviser gives Mind Body Green a 100% safe trust rating.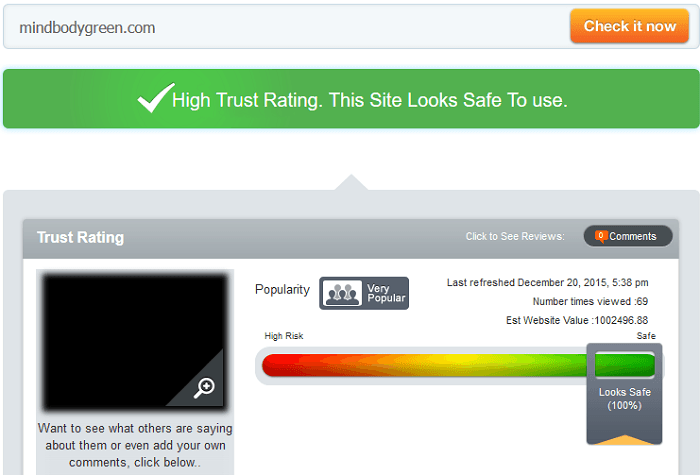 MindBodyGreen.com Coupons
The only thing available for actual purchase on the website are the video courses. It seems that individually, they are sometimes offered at a discounted rate for a certain amount of time, and are also offered in bundles at a discounted rate. There are no coupon codes necessary for this.
Conclusion
Mind Body Green is a great collection of resources for the individuals that are looking for further information on things concerning physical, spiritual, and mental well-being. The website provides insight into certain diets and how they are beneficial. Because it combines a holistic approach with Western medicine, the teachings that are supported by the website appeal to a broader array of individuals.
It is not a huge downfall that the website does not have a testimonial section, because the videos themselves have them for each individual one. It is a comprehensive centre for resources aimed at those with the interests of a New Age approach. There are articles and videos available free of charge that condone positive behavior regarding mind and body, written by experts in the field in which they are concerned. Considering the rating on ScamAdviser, it is safe to say that even the video courses that are available for purchase on Mind Body Green are not scams or money traps by any means. It could be assumed that all users of these courses feel like the courses were worth the money. Mind Body Green receives 5 out of 5 stars.
» Reviews » Mind Body Green Review – A Well-rounded...