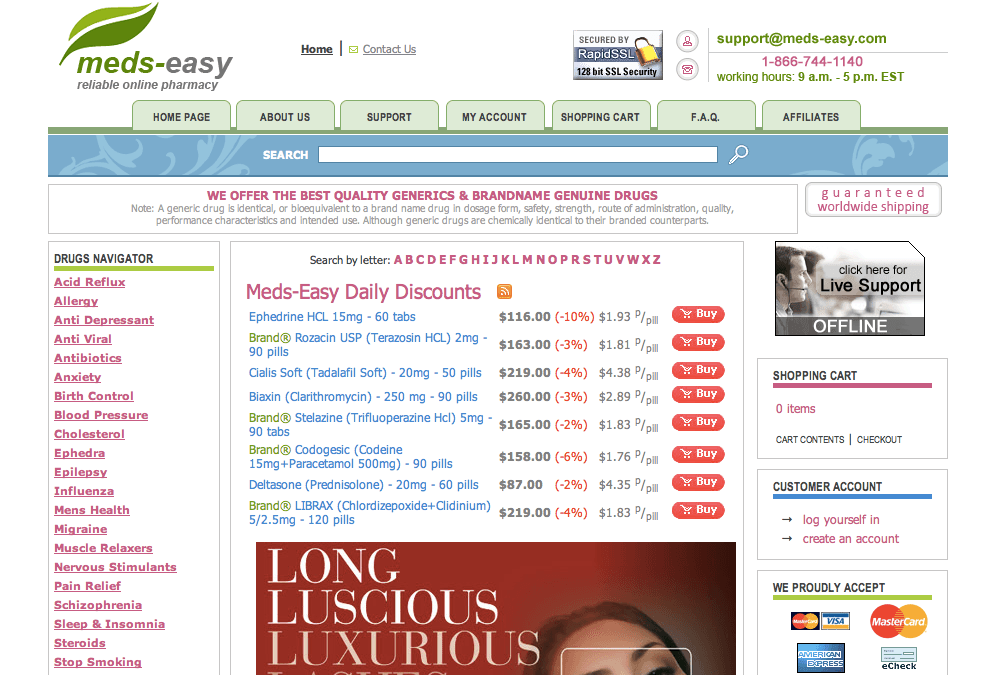 Meds-easy.com is an international online pharmacy that offers patients all over the globe a proven and trusted source of quality medicines. The company offers a private, convenient and affordable alternative to conventional pharmacies and other online services that are costly. The company supplies medications from pharmacies that are in strict compliance with FDA regulations for shipping medicines for personal use. The medications are billed to the credit card only the request from the patient has been approved by the doctor. The company takes about 5-21 business days for delivery by Fast EMS traceable shipping and 10-21 days for standard international shipping.
While searching for customer reviews on the net we found plenty of negative feedbacks where the customer shared their bitter experience after placing an order with meds-easy.com. Most of them complained that the company was involved in credit card scams and it is very risky to carry out any financial transactions with this company. Many customers received fake tracking number and did not receive any products for a long time. Such buyers considered the company as fake and is said to steal money and involve in fraud business practices. Since there are many negative reviews about the company it indicates that meds-easy.com is not at all safe for use. The company is listed in the not recommended sites of NABP and is considered as a rogue internet pharmacy by Legitscript. As per Scamvoid, the company is not blacklisted but has a very bad trustworthiness and vendor reliability score in the WOT. Even Scamadviser has rated the company with 0% safety and it is best to avoid any sort of financial transactions as the information may be accessed by unauthorized people and the data may be misused.
Thus, we suggest online medicine buyers to avoid this company as it is not at all reliable and find some trustworthy company that can satisfy your health requirements.
Visa, MasterCard, Amex
Meds-easy.com Review -2 out of 5 stars by Stephen K. Walker
» Reviews » Meds-easy.com review: Avoid this company to save...