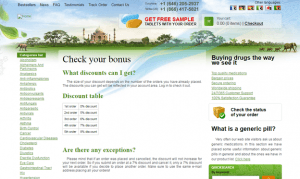 A modest Cyprus-based pharmacy that used to dispense generic medications for a variety of medical conditions was Indian-pharma-online.com. The company was established in 2008 and has been a vendor of Indian generics to many people around the world.
The generics provided by Indian Pharma Online were all produced by FDA-approved Indian manufacturers. According to the store, despite the fact they are based in Europe, the meds were sent out directly by the manufacturer and took around two weeks to be delivered. Indian Pharma Online provided its customers with two shipping options: unregistered airmail for extra $10 and faster and trackable courier service for $50 per package. This last option wasn't available for Sweden, Finland, Austria, and Belgium, and the packages were delivered within 9 working days.
The online drugstore offered a variety of meds to treat conditions such as erectile dysfunction, asthma, cardiovascular diseases, HIV, diabetes, and cholesterol. The prices were incredibly low – generic Viagra could cost as low as $0.83 per pill. Clients were able to order their medications only with a valid prescription.
Indian Pharma Online ensured its clients about the confidentiality of their information and SSL security encryption. Clients were able to pay using Credit Cards (Visa and MasterCards, E-check or bank wire transfer.
I wanted to ask the store about their refunds policy, but with the store being shut down, it wasn't possible to reach out to customer service. Nevertheless, customers were able to contact Indian Pharma Online via phone or by writing a message in the website's contact form.
Indian-pharma-online.com Reviews
If a store was in business for nearly a decade, it is only natural that I would find reviews from previous customers. Reviews provide useful information regarding a certain store, particularly their efficiency and trustworthiness. Since I find reviews essential, I tried searching for online reviews available for Indian Pharma Online to confirm its reliability. Some of the comments for the store I came across include the following:
Paul wrote to thank the store for the products and mentioned that he was able to receive them in one piece. Carmel, on the other hand, thanked the store for its "kind and quick help".
Whilst the other customers were thanking the store for the delivery, KW thanked the shop for its "fantastic" pills and mentioned that he did not have side effects while using the medicines.
Steven, on the other hand, wrote to tell Indian Pharmacy Online that he appreciated everything the shop has done for him.
Indian-pharma-online.com Reviews 2016
Indian Pharma Online seemed to have a better performance in some scam analyzing scams than I was expecting. Scam Adviser considered the store to be trustworthy and was deemed safe to use. Besides the good scam analysis results for this store, the shop also had a few more recent reviews from its clients:
According to "Muddy Rudder", this store's support team was "outstanding" and thanked the store for its service.
Santos, like the others, wrote to confirm his receipt of the products and even mentioned that his order arrived earlier than anticipated.
Alfonso Romero, on the other hand, commended the products' effect and stated that he gives the shop a score of 10 for the effective products. He concluded his brief review by endorsing the store to other buyers.
Indian-pharma-online.com Coupon Codes
Getting a good bargain was always something I try to do. I looked for extra discounts or coupon codes that Indian-pharma-online.com was offering to its clients and I found a returning customer discount. Each time a consumer returned to the pharmacy, they were given an extra discount. For example, a client ordering for the second time would get 5% off. This discount increased 1% more until the fifth order. After that, the client would always get an 8% off.
I don't know what you think about this, but for me sounds a pretty cool discount to advertise.
Conclusion
My opinion regarding Indian-Pharma-online.com is that the shop was a reliable store with plenty of online reviews to back up its claim of good service. Also, I have to give Indian Pharma Online a high-five for endorsing the prescription-only policy.
If the Indian Pharma Online was still available, I'd advise you to proceed purchasing your meds at this store. However, since the shop has now closed down, it is wise to consider other online pharmacies instead. Nevertheless, I deem this shop still merits a good score of 4 out of 5 for its past service.
» Reviews » Indian-pharma-online.com Review – A Now Closed Provider...