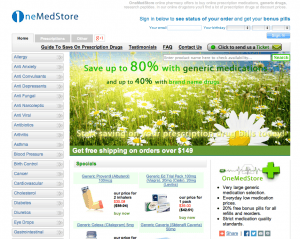 If you have been looking for an online pharmacy from which you can place orders for both generic and brand name medications and get them delivered in the shortest time possible, you will find a solution by buying at Gomedstore.com. The store stocks a wide range of medications that are both in generic and brand names and it is very rare that you will miss your prescription drugs from this company. As for the prices, well, you are in for great savings because you will be able to save up to 80% of the original value of the generic medications and up to 40% of the brand name medications.
The company only offers free shipment for orders that are worth more than $149 all over the world. If you do not receive our order within the time specified depending on location, you should contact them and they will reship the order free of charge.
Gomedstore.com Reviews
Many of the customers who gave their views about Gomedstore.com seem to be in doubt about the authenticity of the company because the way it works seems like just a scam website. Some who were seeking advice as to whether to order from the site said that there is something goofy about the website and they just wanted to be on the safe side since it does not look so popular. On the forum where this discussion was being held, many of the participants said that they had bad experience shopping here and they would not recommend it to anyone. Even the one reviewer who responded by saying that he had successfully ordered from the site and got some benefits like free shipment on his second order was told to stop lying because even his comment sounded like a scam that was out to promote the website.
According to Scamadviser.com, Gomedstore.com cannot be trusted because its trust score rating is only 0%, mainly because its real origin is not well known and among the 3 probable countries of origin, one is a high risk country. The site was also listed as a rogue website in 2012 by legitscript.com. Several other websites consider it a low reliability website.
Gomedstore.com Coupon Codes
There are various discounts available for you for various products at Gomedstore.com. To begin with, you will be able to save up to 80% when you buy generic medications and up to 40% on the original value of the brand name medications. You will also get 20% free pills for every reorder or refill. This means that the more you order the more you will save on buying prescription medications.
Some of the specific items that are being sold on discounted prices at Gomedstore.com include:
• Generic Welbutrin 150mg which is being sold at $38.83 down from $42.32 for 30 tabs.
• Generic Modalert 100mg for $45.60 instead of the usual $49.70 for 30 pills.
• Generic Levitra for $35.90 down from $39.13 for 10 pills.
• Generic Zithromx 250mg is being offered for $36.48 instead of $39.76 for 12 tabs.
• Genric Nolvadex 10mg at $35.20 and not $38.37 for 40 tabs.
Conclusion
Although Gomedstore.com has not been blacklisted by trusted security services like Google Safe Browsing and others, remember that it has a bad online reputation, probably because of the several customers who are unhappy with their services. If you really wish to buy medication from this site, please ensure that you first verify all the information available about it, before you disclose your personal information and mostly your financial details in terms of your credit card information. Should you decide to buy from them, ensure that you are aware of all the approaches you can use to resolve any misunderstanding that may arise. The site gets a rating of 1 star.
Contact form
Gomedstore.com Review -1 out of 5 stars by Stephen K. Walker
» Reviews » Gomedstore.com Review: Fast Delivery but Possibly a...