Global Health Solutions has developed two products in wound care solutions to combat the problem of antibiotic resistant organisms. The antimicrobial gel (CurX) is as safe as an over the counter medication but has the strength to devour resistant organisms. The wound dressing that they have developed (FiltreX) lasts up to 7 days and lets just over 99% of non-particulate air to reach the wound while keeping it dry and contained. When these products are used together, they form what the NIH calls an ideal healing environment.
CurX is applied directly before the dressing, and has an extended release lasting up to 28 days. It is safe for fragile healing skin, and it is not an antibiotic by any means. The FiltreX dressing is hypoallergenic and has as shelf life of two years, and does not contain any antibiotics or antimicrobial properties.
The website is extremely pleasing to the eye, and simple to use. To contact the company, they provide a physical location, phone number, email address, and there is a contact form that may be submitted directly through the site.
Globalhealthrx.com Reviews 2015
There are no customer reviews or testimonials for Globalhealthrx.com, however, ScamAdviser notes the recent inception of the company, and the lack of information on it is noted.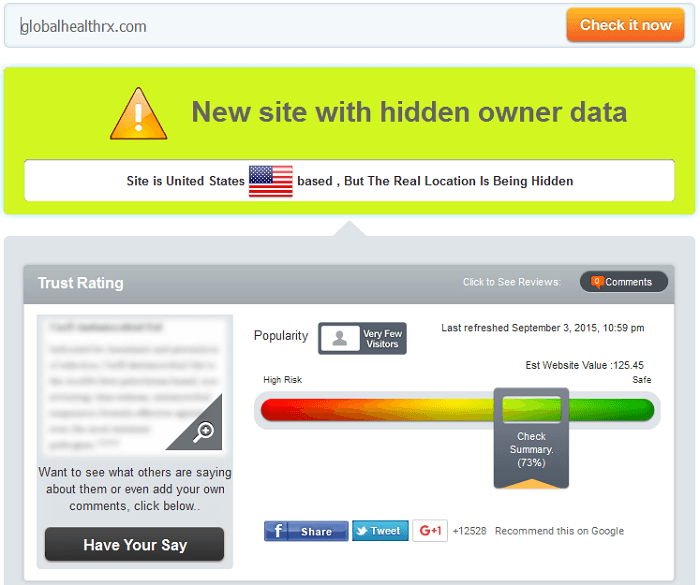 Globalhealthrx.com Coupons
There are no coupons available on the website or third party platforms.
Conclusion
Globalhealthrx.com is paving the way for how infections and wounds will be treated in the future. It has pinpointed the largest issue at hand – how bacteria are becoming resistant to antibiotics and not responding to treatments. Upon completion of the ISO 5/Class 100 sterile facility, Global Health will register with the FDA. And although the company is still in its infancy, it has the potential to change the medical world. Their antimicrobial gel is proven to be effective against many infections, pathogens, and bacteria, including MRSA.
Right now the products are not available for purchase on the Global Health website, but there is a form to fill out if a person is interested in being a distributor. These products will be a great addition to wound care, allowing the affected area to be left alone longer between changing bandages and reapplying ointment. Globalhealthrx.com receives 3 out of 5 stars.
» Reviews » Globalhealthrx.com Review – Appears Legitimate and Has...