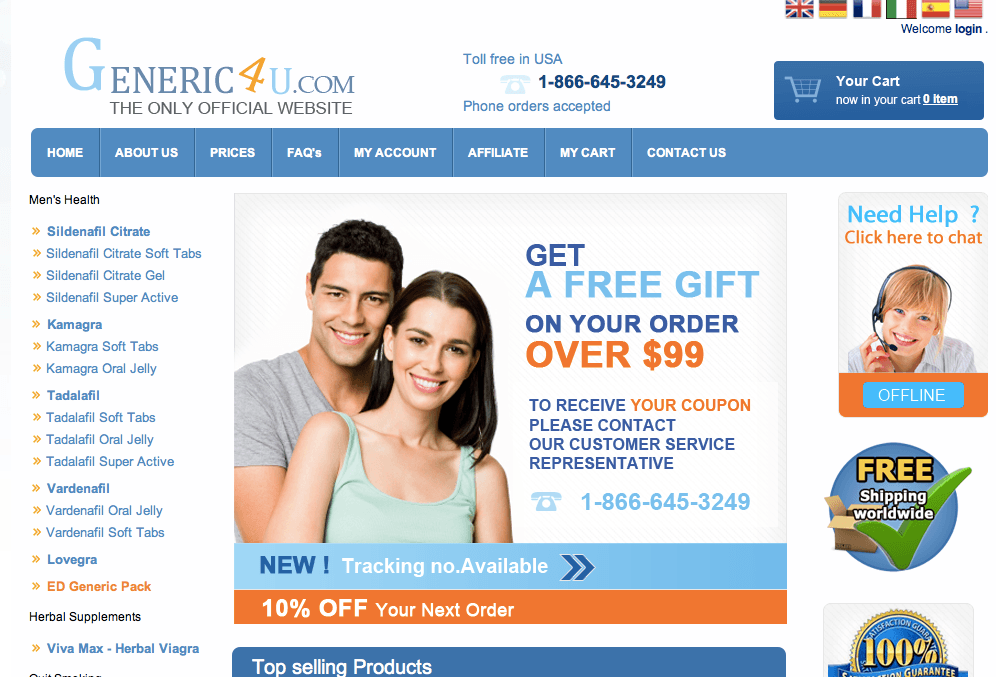 Generic4u.com is a pharmaceutical company that is based in Ukraine and specializes in dispensing generic drugs to their wide range of clients. The products are sold at very affordable rates to ensure that customers across the board are able to access their prescription drugs regardless of their income levels. The drugs are manufactured by reputable manufactures who uphold integrity and customer satisfaction.
Among the products they supply are men's health pills which include but are not limited to Tadafali Softtabs, Vardenafil and Sildenafil Citrate. They also have herbal supplements for customers who want to go natural in boosting their health, products to help you deal with high cholesterol levels and to quit smoking.
Payment methods at Generic4u.com are either through Visa or direct bank transfer. Shipment is done free of charge and delivery takes 10-18 working days. They also offer free consultation services.
Generic4u.com Reviews
Customers who have used the services of Generic4u.com and who have given their feedback on the quality of services found here have mixed feelings about the services of the company; there are those who are satisfied and those who wonder what they thought in the first place placing an order at Generic4u.com. One Jennifer says that she purchased some medications from the site and was very satisfied with their customer support services because they responded to her request promptly. She says that she was at first skeptical about Generic4u.com because she has suffered ill fate at generic4u.net but she later found out that these two are completely different sites.
Another reviewer starts off by saying that Generic4u.com is a fraud website that operates from an overseas country. He reports that he placed an order for Viagra 8 months ago and his credit card was charged immediately and he also received an email confirming that his order would be processed and would arrive 14 working days. A month and a half after placing the order he still had not received his package.
According to a review done by mywot.com, Generic4u.com has poor trustworthiness and bad reputation online. It is also not safe for use by children. According to users who have given their reviews on mywot.com, Generic4u.com is just a fraudulent site that is attempting to get money from unsuspecting users. The company ships illegal drugs to USA and Europe and you never know when they may arrive at your post box as part of your order.
Conclusion
The website has not been blacklisted by trusted security services and this means that it is safe for use and its business is legitimate. Although some of their customers have had some nasty experiences, their general conduct and reliability levels are high. The much they need to do is to work towards resolving the issues raised by the unhappy customers and this way, they will be help build up their reputation. They also should strive to make their identity real and this way, they will remove the suspicion that they are just a scam website. The site gets a rating of 3 stars.
Generic4u.com Review -3 out of 5 stars by Stephen K. Walker
» Reviews » Generic4u.com Review: Cheap Medications that May Turn...