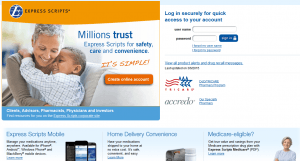 Express-Scripts.com is an online pharmacy benefit manager. As such, this company is not a traditional retail seller of pharmaceuticals, but a third party administrator of a prescription drug program. Express-Scripts.com is responsible for paying on and processing prescription drug claims through various insurance companies and Medicare. In layman's terms, Express-Scripts.com is an insurance company that only covers prescription medications. Tricare, the insurance company utilized by the United States Department of Defense is Express-Scripts.com's largest contract, therefore a majority of their clients are active or retired military personnel. According to their website, they offer lower co-payments than many of their competitors, this cannot be verified as you must be a member of their program to learn more information regarding prices and costs.
Express-Scripts.com offers prescription orders in the form of 90 day supplies which are mailed to your home. The cost of shipping is free for standard ground delivery. If Express-Scripts.com offers additional shipping options, they are not listed within their site. Customer service is accessible through a list of toll free numbers, each will connect you to the specific department related to your question or concern. They are also accessible via email through the Express-Scripts.com website.
Express-Scripts.com Reviews 2015
There are a plethora of reviews available online for Express-Scripts.com. Unfortunately, a vast majority of these reviews are negative and troublesome. The first review we discovered was from a gentleman suggesting that someone contact the Federal Trade Commission to report the practices of the company. In this instance, the customer was receiving his cholesterol medication at no cost, from a participating provider, to find out that after his third purchase he would have to start paying for the prescription. While this may not seem like such a big deal, it is Express-Scripts.com who will start charging the customer, not the actual pharmacy dispensing his medication.
Another customer tells the story of how they have never received their necessary prescription identification cards after numerous requests and attempts. The customer service department has repeatedly requested that the customer submit information, which has been answered each time, and the cards have never been received.
In addition to the known issues of customer service negligence and miscommunication, there are a number of reviews in which customers are urging that Express-Scripts.com members contact their unions and insist that the contract with the company be voided. The review below illustrates the level of frustration that customers all seem to have with Express-Scripts.com. This customer goes as far as to point out that the prescription drug plans offered through big box pharmacies are all better in price and service than what is given on an Express-Scripts.com service plan.
Express-Scripts.com Coupon Codes
There are no available coupon codes for Express-Scripts.com, we have determined that the company does not accept coupons of any form as they are a pharmacy benefit manager, not a pharmaceutical retailer.
Conclusion
Due to the overwhelming number of negative responses to the company, most of which are from military personnel, and the fact that prescriptions cannot be purchased through the Express-Scripts.com website, we are only able to grant this company 1 of 5 stars.
Phone, Email
Express-Scripts.com Review -1 out of 5 stars by Stephen K. Walker
» Reviews » Express-Scripts.com Review – Negative Reviews, Hard to...