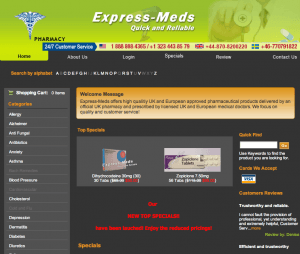 Express-meds.com is an online pharmacy that deals with the sale of medication that has been approved by the relevant UK pharmaceuticals body. The primary aim of this online pharmacy is to provide the users with drugs that are lowly priced so that they are accessible to those who may not have the means to access medical car in hospitals. The site also aims to create an environment that is safe for customers to shop in, in regards to maintaining their privacy on all fronts. The approval granted by European medical doctors acts as an assurance to all those who are shopping for medication that the site is legitimate in its operations and also in the quality of prescription drugs that it offers. The site is conveniently divided into sections. These sections are different categories of medication that are aimed at making it easier for the user to find the desired medication.
Express-meds.com Reviews
Donald Music commends the site for their prompt delivery time which is usually five to six days or earlier. He has been using the site for a while and has always received quality products. He, however, points out that in his opinion the medication prices are a bit steep but is quick to reiterate that it is worth every penny in order to safeguard one's health at a price that is lower than that of visiting a regular doctor.
Stephen Blyth is of a different opinion. He says that he ordered on 20th December 2012 and was charged directly from his bank account. By 18th January 2013 he still had not gotten his order delivered to him and was not getting any responses upon calling the contact number.
Jane is of the same opinion as Donald. She says that she has ordered thrice from the site. Every time her orders were delivered promptly, that is within five to six days. She says that the last order took fifteen days but she has no objection to that since it was being shipped from the UK to the US.
Another individual of a conflicting opinion is Mr. James Hepthworth who says that he ordered for a Christmas gift on 1st December 2011 only to have nothing delivered to him. In addition to this, when he tried to contact the site representatives through the given contacts the response was that there were computer system difficulties.
Conclusion
Most testimonials lean on either the negative or the positive side. Express-meds.com gets an equal share of both the positive and the negative. It is therefore important for any user to personally assess the information present very carefully before deciding to make any purchases. The available reviews are only guidelines and not the final judgement on how the site is. The risk averse people can opt to use the site. However, for those who are cautious, it is better to use a site that has glowing reviews to reduce the odds of being disappointed. A general 3 would suit the site as an award for their services and products.
Phone, Email
Express-meds.com Review -3 out of 5 stars by Stephen K. Walker
» Reviews » Express-meds.com Review: An Uncertain Medication Provider