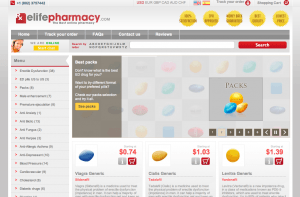 Elifepharmacy.com is a company that offers a wide variety of medications to patients all over the world that is dispensed from pharmaceuticals manufacturing high quality products. The company enables the patients to enjoy good quality medications at cost effective rates while enjoying the comfort of home. All the data that are received from different patients are kept confidential and private so that there is no unauthorized access of data. The company provides security measures to protect the information and uses 256 bit SSL encryption technique. Nothing is specified about the delivery time that the company may take to deliver the products.
For more information about the services of the company we searched the net and found that there was not a single review from the customers about this website. We also found that the company had an order status page but when we clicked on the page it was directed to the home page. This created a doubt whether the customers who have really placed an order will be able to track their orders or not. Nothing is mentioned about the delivery timings and so you may have to wait for a long time without even knowing the reason for the delay. Pharmacy reporting websites like scamvoid and scamadviser have stated that the company has low trust rating and is not safe for any financial transactions. Though the website is not blacklisted, it has an unknown trustworthiness and reliability score in the WOT. It has a 21.9% confidence level as it a very new website. Even Legitscript has considered the company as rogue and may be involved in scam, identity theft, selling of unapproved medicines or fraud business practices.
Thus, we suggest all the online customers to avoid this website as there is no information available on the net that can guide them whether to use the platform or to avoid it.
Elifepharmacy.com Review -3 out of 5 stars by Stephen K. Walker
» Reviews » Elifepharmacy.com review: New website with very less...