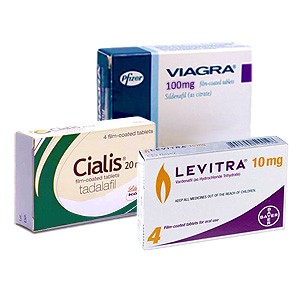 There have been many types of needs and requirements in human life since its inception. With time, they grew and so grew the number of suppliers for every demand of human life. Naturally, it gave birth to serious competition and made the general users confused about how to choose the best one suitable to them. The case is not an exception with the erectile dysfunction treating drugs or ED drugs. There are not only the brand name and generic versions of these drugs, there are also different categories. The most popular ones are Sidenafil (Viagra), Tadalafil (Cialis) and Verdenafil (Levitra or Staxyn). Let's know how they differ from each other.
First of all, it is very important to keep in mind that none of these drugs actually increase your sex drive; instead, they only make you have a healthy intercourse when you are sexually stimulated. All these medications reverse the process of erectile dysfunction by increasing nitric oxide in body; nitric oxide opens and relaxes blood vessels in the penis which is important to achieve and maintain a firm erection. So, the basic job of all these medicines is to keep your body produce enough nitric oxide to support the penis in getting enough blood circulation and helping you to have a proper erection. So what exactly make them so different? Time to find out.
The table below will show the basic differences in an easier way to make a proper comparison:
| | | | | |
| --- | --- | --- | --- | --- |
| How to take? |  Only once a day, must be taken without food | Only once a day, must be taken without food | Only once a day, can be taken with or without food | Only once a day, can be taken with or without food |
| When to take? | About 30-60 minutes before sex | About 30-60 minutes before sex | Anytime | About 30 minutes before sex |
| Longevity of effectiveness | 5 hours maximum | 5 hours maximum | Anytime between dosages | Up to 36 hours |
The main difference among these medications is that they have got different chemical components in their manufacturing which make them having different effects like – the time taken to start the effect and to wear it off, possible side effects etc. Only a licensed doctor can prescribe you the best ED drug suitable. Since all the chemical components have more or less effects on the body and, needless to mention, not all of them are good – it's obvious to take a doctor's consultation into consideration before starting to use any drugs at all.
ED drugs are bad for people with a history of heart diseases, stroke etc. These people must wait and regularly check it up with their doctors before even engaging into intercourse. It really doesn't matter whether you choose to use the generic version or the brand name one of these ED drugs as long as you are maintaining the instructions provided.
Medicines are capable of both making or breaking a life. It's up to you, what you wish to have.
» FAQ » Comparison Between Best Selling ED Drugs (Viagra...