Canada Prescription Drugs, or CanPD, was established in 2002 and provides simple and reliable solutions for customers to obtain their prescription drugs, while saving them up to 80%. The prescription medicines provided are Health Canada approved and delivered safely to the customers' door. CanPD works closely with doctors and pharmacists to ensure that customers are receiving safe and correct prescription medications.
Each order for prescription medication is reviewed by a Canadian physician and then filled by a licensed pharmacist. The pharmacists are monitored and licensed by the Provincial College of Pharmacists, the pharmacies are certified members of the British Columbia Pharmacy Association, and the company as a whole has been accredited by the Better Business Bureau since 2002 with an A+ rating.
All orders ship for $15, are fully insured, and will be delivered in 2-3 weeks after the order is reviewed along with the correct completed documents. As per pharmacy regulations, returns are not accepted and all sales are final. The company does encourage contacting them if the package arrives damaged, as this is the fault of the shipping company.
Ordering online with CanPD is safe and secure, as they boast a spotless track record. Payments may be made using Visa, MasterCard, Discover, international money order, and certified checks. If a package arrives damaged, the company encourages the customer to contact them immediately.
This business operates online only and has a physical address in Ontario. To contact by phone, a telephone number and fax number are provided, with business hours listed on the site as well. The website is clean and easy to use, with all major and popular medications listed up front on the search page.
Canpd.com Reviews 2015
Canpd.com has a page dedicated to satisfied customer reviews. No external customer reviews were found otherwise.
LegitScript lists CanPD as an unapproved internet pharmacy.
ScamAdviser says CanPD has a low trust rating and may not be safe to use.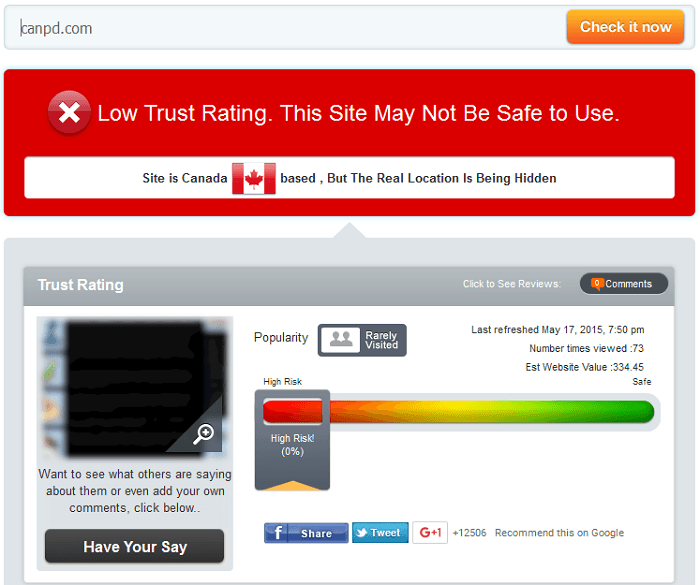 Canpd.com Coupons
CanPD takes part in a referral program. The referrer can receive $20 for their friend's purchase of $150 or more. There is also free shipping on first time orders.
Conclusion
CanPD has received no complaints filed with the Better Business Bureau in the last 3 years, and has no negative feedback on its website. The on-site testimonials make up for the negative ratings on LegitScript and ScamAdviser. This establishment does not partake in any illegal activities and does take all necessary steps to ensure a customer receives the correct prescription from a safe and regulated pharmacy.
Having a handful of professional accreditations, it would be hard to say that Canada Prescription Drugs is not a legitimate site. The website is easy to use and provides ample opportunity for contact with the company should a customer have any questions or concerns.
This company covers all of its bases from start to finish, requiring a prescription for medications, having that reviewed by a licensed physician, filled by licensed pharmacists, and sent insured so that the customer may open the package with satisfaction. Canpd.com receives 3 of 5 stars.
» Reviews » Canpd.com Review – Maybe Legitimate Website