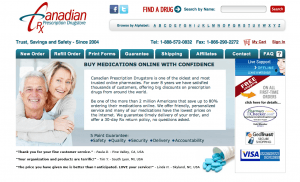 Canadian Prescription Drug Store claims itself to be a trusted online pharmacy store offering quality medications at discounted price. The online store is serving customers for the past eight years and claim to satisfied thousands of customers with their attractive discount offers. The online store offers medications from fully licensed and independently verified partners from Canada as well as other countries like England, New Zealand, India, Turkey, Singapore, and the USA. Despite the lucrative offers and discounted price, customers looking to purchase medications through this store must carefully verify all essential and vital details before placing medications order. Online reviews of the pharmacy store can be easily checked by the customers in order to find genuine feedback of the pharmacy store among the online shoppers.
Canadianprescriptiondrugstore.com has been reviewed by different reviewing websites and going by the reviews of these sites it can be said that this online pharmacy is not at all considered safe and reliable for purchasing any medication. Pharmacies Review has reviewed the site and has warned the customers to check the site legitimacy and keep few precautions in mind while placing any order. The online pharmacy store has been reviewed by Scamvoid.com, which has determined that the site has a bad online reputation. Though the site is not blacklisted by the trusted security but has bad trustworthiness and vendor reliability score in the Web of Trust reputation. Website is also not very popular and has poor social network presence.
Scamadviser has also reviewed the site and has determined that the site has low trust rating and is not considered safe to use. The website has been reported as being untrustworthy and has been given low reliability rating by other websites. This pharmacy reviewing website has also warned the customers to do necessary checks before placing any order. Legit Script has reviewed this Internet Pharmacy and determined that it does not meet Legit Script Internet pharmacy verification standards and has termed the online pharmacy as an unapproved Internet pharmacy.
Canadianprescriptiondrugstore.com Review -3 out of 5 stars by Stephen K. Walker
» Reviews » Canadianprescriptiondrugstore.com review – An Unapproved and Unreliable...