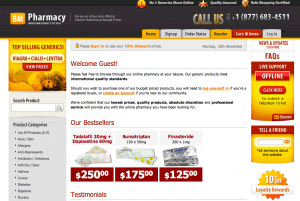 Bmpharmacy.com is an online store that sells generic medicines at budget prices. Beside their low prices, the store also offers some coupon offers and discounts that are listed below.
10% Discount for Registered Members. If you sign in as their registered member on the website, the store will automatically reduce 10% prices on the website for your purchase.
Coupon Discounts are available on number of external coupon websites. These coupons include 10% discount coupons on your entire order, 21% discount coupon on order, 11% discount coupon on entire order, etc.
The cost of shipping is included in the cost of medicines so there is no free shipping deal on this website.
Conclusion:
There is only 10% discount for the loyal customers available and visible on the website of the store. Besides that, there is no other visible discount on their website. There are number of coupons for this company but couple of websites categorized some of these coupons as unreliable coupons. Make sure to check if the coupon is valid and when it was last used when trying a coupon for this website. Overall, the discounts and coupon offers are not as impressive as on many other online pharmacy websites.
Read Our Bmpharmacy.com Review »
» Coupons » Bmpharmacy.com Coupon – Loyalty Discounts