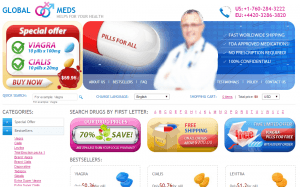 Looking for another place to get my usual supply of medicine from and at lower prices than I might have been getting them from the other trusted vendors, I stumbled upon Awc-Drugstore.com. This is a pharmacy that guarantees the client confidentiality to the fullest and ensures that they can ship to anywhere in the world. One of their practices which I might not fully approve of is the offering of medicine – both prescription and non-prescription kinds – to a customer without a prescription leaflet from their doctors.
Having been in the business since the year 2004, AWC Drugstore has been operating the business out of an unknown and unstated location. Their thirteen years of experience in the business has been based on the sales of both brand and generic medicine. Offering quite the extensive catalog, it is no surprise that they would be the darling of many.
The generic Viagra being sold on this vendor goes for just $0.36, following by Cialis that starts at a price of $0.76 for one pill. There is an FDA approval on every pill sold on the internet pharmacy, both of the brand and generic kinds. After orders have been placed the customer is prompted to pay via the use of a credit card. The credit card options in support are limited to just VISA and MasterCard. Like most other vendors out there, the package is then shipped through Airmail or EMS.
When the customer would like to get their package via Airmail, they are advised that it takes a wait time of 2 – 3 week. EMS is billed to come earlier with a delivery time of 8 – 10 business. The difference in wait times is also better explained with the prices that would be required for the different shipping packages. Getting in touch with the customer care agents in case of any glitch has been made explicit enough. Even though there is no live chat support on board, there are toll-free numbers and an email contact form already.
From the policies page, it can be deduced that Awc-drugstore.com frowns at returns of orders and cancellations likewise. They would, however, provide refunds (or a reshipment) if a customer didn't get the package or got it as damaged while in transit.
Awc-drugstore.com Reviews
I don't know how they conduct their business on AWC Drugstore, but it might not be the best thing for a vendor. From an independent user review that can be found on the internet, a certain Jared was pissed off for 'not [having] received [his] products.' That was the summary of what he described as 'poor… non-existant [sic] service'.
Apparently, he placed an order on this internet pharmacy and is still yet to get anything.
Awc-drugstore.com Reviews 2016
The first thing I saw when I took this vendor to LegitScript.com is the pronunciation that it is a Rogue Pharmacy. This was after the independent analysis website had looked through the website and deemed it that it doesn't satisfy the requirements for an online vendor to be approved.
The story is not so different with Scanner's report which suggests that this is neither a good place to browse or buy from. Again, they scored red flag points on the fact that they have been registered for a year and might expire soon without a renewal.
Worthy of note is that the website doesn't have any trust records and doesn't own an SSL certificate. None of these are expected from a business that is still in operation.
Awc-drugstore.com Coupon Codes
For a buyer that gets on to this website, there is no way they are ever going to run out of coupon codes and discount offers. Personally, I saw some three that caught my fancy. The fist promised the customer a savings of up to 70% from what they would have gotten from their local pharma instead.
Probing further, there is another which supports that there is a free shipping offer on very order which has exceeded $200.00. While terms and conditions would apply to the last, there is another one yet which offers free Viagra pills on every order made.
Conclusion
The coupon codes and discount options that Awc-drugstore.com supports were enough to have swayed anyone, but being objective is key here. This vendor has not told us where it is based, made no mention of where its medicine comes from and has even racked up bad comments against itself. While I would have wanted to give them the benefit of the doubt – a fighting chance at least – the kind of bad report this vendor got from independent review websites just blew it out of the ballpark.
For these reasons, this vendor deserves no more than a rating of 2 out of 5, and I wouldn't order anything they had in stock.
» Reviews » Awc-drugstore.com Review – Internet Vendor with Very...