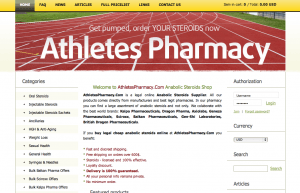 Athletespharmacy.com is an online Anabolic steroids supplier that helps the athletes to promote the growth of skeletal muscles and develop male sexual characteristics in both males and females. These steroids are used to treat anemia, muscle wasting conditions and delayed puberty but their use is very limited. They are mainly used for bodybuilding and the company offers a huge range of anabolic steroids that are supplied from world brands. There is abundant choice of steroids and legal steroids are the most desired because of its safety and comparable power to popular anabolic steroids. All the products are shipped and Athletespharmacy guarantees that the order will be divided into necessary amount of packages to lower the risk. Shipping time is normally 10 to 15 days.
We have found some reviews on the net and many of them were positive where the customers were very satisfied with the high quality of the products and their timely delivery. In Eroids.com there are many customers who have shared their experience. The customers have stated that athletespharmacy.com is a pleasure to deal with and has recommended shopping from this site. But there are also some negative reviews shared by the customers where they have not received their products for a long time. When we checked CIPA and NABP, we found that the company was not listed with them and did not appear in database. Legitscript has considered the company as a rogue internet pharmacy and has determined that it does not meet the internet pharmacy verification standards. There is a chance that the company may be engaged in deceptive business practices. Scamvoid has stated that nothing much is known about the company and it has an unknown vendor reliability and trustworthiness score in the WOT.
We therefore suggest online customers of steroids to verify the services of this company and then place an order so that you are not at the risk of losing your hard earned money,
Athletespharmacy.com Review -3 out of 5 stars by Stephen K. Walker
» Reviews » Athletespharmacy.com review: Positive reviews by customers make...