This Colorado-based company claims to provide the largest selection and lowest prices on minerals, supplements, vitamins, and herbs. Most items are stocked readily in their warehouse in Denver. The website is a little busy looking, but information is easy to find. Customers may shop by category on the left hand side, a column provides very specific sections. The company's "About us" page offers a lengthy insight to the company, founder, and products. Founded in 1998, the owners of the company are Master Herbalists and Naturopaths. The items that American Nutrition offers are inspected in FDA approved facilities and are tested for weight variations and disintegration.
This website does offer wholesale purchasing as well as an affiliate program. Contact information is readily available and consists of two phone numbers, a fax number, email address, and warehouse address along with operation hours. American Nutrition offers $5.95 flat rate shipping on any order. The only payment option that they advertise as accepting is PayPal. This is promising because PayPal allows customers to dispute transactions and protects both the consumer and business in the transaction.
The website seems to have been last updated in 2010, which may be an indication as to why purchasing from the website is not an option. American Nutrition does state that the information found on the website is not there to replace advice that a medical professional may give, and the supplements are not intended to treat or cure medical conditions.
AmericanNutrition.com Reviews 2015
Most reviews on ResellerRatings gave American Nutrition a one star rating, stating that the company has taken the money from their account but never gave a shipping notification for the item. It is worth noting that most of the reviews on this website are from 2011.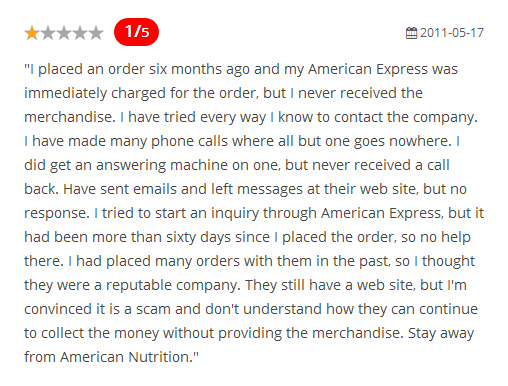 There are no available reviews on the Facebook page, but lots of angry customers have posted comments under the articles posted by the company, stating their issues with not receiving their orders and that they do not have good customer service.
LegitScript.com does not have American Nutrition on their website, but ScamAdviser.com does list it as having a low trust rating.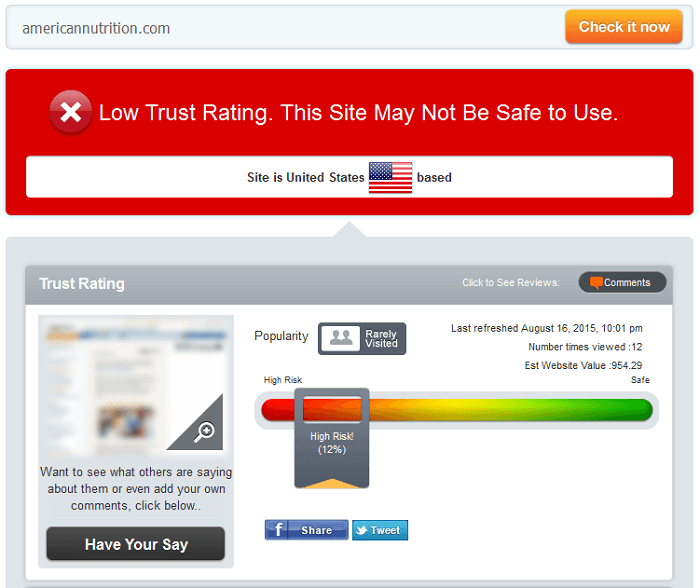 AmericanNutrition.com Coupons
There are no active coupons or discounts as this website cannot be purchased from currently.
Conclusion
This website seems to have been at least a little bit legitimate at some point. Its Facebook page has not been updated since 2011, seemingly following all of the negative reviews. This site receives 1 out of 5 stars because it is no longer operating, or at the very least is not selling online anymore. We added an item to my cart and attempted to check out to view payment methods, and the check-out page is just an "ERROR 404 Page not found" message. My assumption is that this business got a little bit in over its head with orders and eventually folded.
Judging by the lack of activity on the Facebook page and twitter, and the omnipresent irate customers, orders were not being shipped in a timely manner and nobody from the business was communicating with the customers.
» Reviews » American Nutrition Review – No Longer Operable...