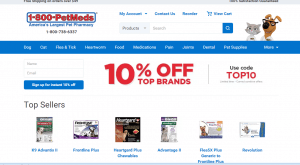 Pet Meds is known to be one of America's largest pet pharmacies. There has been over 8 million customers who have used Pet Meds and would consider themselves satisfied. Pet Meds is a licensed pharmacy, just like CVS or Walgreens. It is attributed with the Vet-VIPPS accreditation from the National Association of Boards of Pharmacy, it is a public company, and an A+ Accredited Member of the BBB.
Pet Meds provides a 100% satisfaction guarantee, or you may receive your money back. The reasons that are covered for this guarantee are: your pet didn't like it, you changed your mind, you ordered the wrong product for the size or weight, of your pet gets heartworms while on a heartworm medicine. Pet Meds only carries FDA approved medications and honors all manufacturer's guarantees. Items with the Pet Med label are healthy and made with natural ingredients, and are tested independently by third parties to verify claims on the label. The testing gives feedback that allows the products to be improved.
Pet Meds employs medication experts, and has the largest number of veterinary pharmacists on hand. These pharmacists monitor for drug interactions, ensure that the pet's prescription is accurate, ensure valid expiration dates, and suggest generics that will help you save money. On the site, Pet Meds divides the products into categories as to what the item is for, such as dogs, cats, flea and tick, heartworm, food, medications, pain, joints, and dental.
1800petmeds.com Reviews
There is not a section on the website for customer reviews or testimonials, but each product for sale does have a Customer Reviews section near the description, allowing customers to read about experiences with that specific product.
ScamAdviser gives 1800petmeds.com a 100% trust rating, indicating no malicious activity on the website and no bad reviews to be found on the internet.
1800petmeds.com Coupons
Signing up for the email list will grant an instant 10% off, and the code STACK5 will grant $5 off per item valued at $42 or more, and orders over $49 will receive free shipping.
Conclusion
Pet Meds is a great resource for pet owners looking for affordable options to provide simple medicines to their pets. Pet Meds provides many of the same items you could purchase at your vet's office, but is able to sell them at a cost that is less. The website is extremely easy to use and navigate, especially since their most popular products are already in a section on the main page.
Being able to provide these products at such a discount is a great asset. Even though there are no reviews of the actual website, the Scam Adviser report indicates that there are no negative reviews to be found on the internet. Having reviews on the individual items is important so that customers can investigate the items they intend to purchase prior to purchasing, and the company keeps veterinary pharmacists on hand to answer questions. Overall, this website is a great resource to have because it provides the array of items, and is known to be extremely trustworthy. Pet Meds receives 4 out of 5 stars.
» Reviews » 1800 Pet Meds Review – A Legitimate...